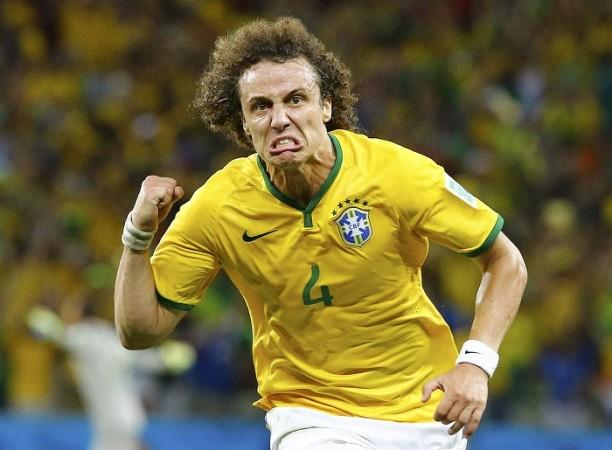 Neymar needed some help if Brazil were to quell the Colombia storm, and the superstar got it, with the entire team stepping up just when it was desperately required to help their side to a mouthwatering 2014 FIFA World Cup semifinal against Germany.
In a game which Neymar failed to put his stamp on, Thiago Silva, with his knee, and David Luiz, with his stunning deadball skill, gave Brazil a thrill-a-minute 2-1 victory over a Colombia side who refused to give up right until the end, before eventually running out of steam and time against the determined hosts, who had one thought on their minds, to get to the semifinal at all costs.
It was an entertaining, yet quite rough, all-South American quarterfinal clash in Fortaleza, a game which Brazil dominated in the first half, before Colombia put in a much better performance in the second, with James Rodriguez's penalty with 12 minutes remaining proving to be a comeback-inducing goal too late.
Germany now await this Brazil side, who seem to step up their game according to their opponents, and with the European side putting in an as-efficient-as-they-come performance against France earlier in the evening, it is going to be a David vs David chess match of epic proportions.
Brazil, like they did against Chile, shot off the blocks quickly, looking to take the game to Colombia and not allowing their fellow South Americans to settle. The key to that strategy would have been an early goal, and with a little over six minutes gone, Brazil were 1-0 ahead.
It was similar to the goal scored by David Luiz against Chile, with Neymar curling in a corner, the ball going all the way to the far post for Thiago Silva, ghosting in behind Carlos Sanchez, to knee it into the net.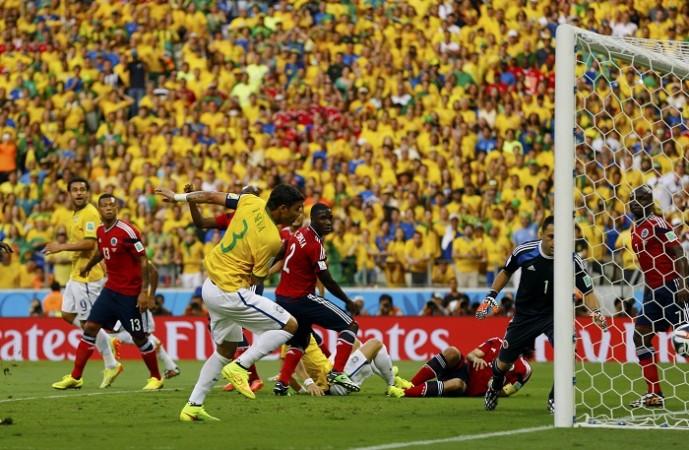 Brazil were not happy to sit back and enjoy their 1-0 lead, though, as the home side poured forward with wave after wave of attacks. Neymar was not exactly the central figure in most of the moves, with Hulk making his presence felt.
The Brazilians have been screaming for more support for Neymar up front and Hulk certainly provided it in the first half, even if all of that hard work was not rewarded by a goal. First, the Zenit St. Petersburg man made a typically quick run into the box, before seeing his cross towards Fred just cleared by the Colombian defence.
Not happy with that result, Hulk decided to take matters into his own hands, playing a one-two with Neymar, before firing in a low shot which was well saved by David Ospina, by miles the more busier keeper in the first half, with the Colombia custodian also keeping out Oscar's effort outside the box after the ball came to the playmaker off the initial save.
Hulk was not done and he would have another crack at making it 2-0, firing in a wonderful low effort off a pass from Marcelo, only to see Ospina, who refrained from taking goalkicks, suggesting he was carrying a small injury, up to the task again.
At the other end, Colombia's attacks were sporadic, but when they came, they were pure quality. First, Juan Cuadrado, the assist-leader at this World Cup, almost found the bottom corner with a strike from distance, after a blink-and-you-will-miss-it move, with only a slight deflection from Silva, who would later pick up a yellow card which ruled him out of the semifinal against Germany, taking the ball into the side-netting, rather than the back.
James Rodriguez then worked a bit of magic with a drool-worthy touch and turn which left a couple of Brazil midfielders for dead, giving Colombia a four on two advantage, but Cuadrado, after taking the pass from Rodriguez rather messed up the opportunity, trying to find Teofilo Gutierrez with a cross across, but only finding a Brazil defender.
After an explosive half hour, the game did slow down a bit, but Brazil remained on top, with Neymar firing a freekick from just outside the box, while Hulk, determined to get that goal, rather skied an effort after working himself into a good position for a shot.
Colombia coach Jose Pekerman, who had decided to start with an extra man in midfield rather than go with the twin strikeforce of Gutierrez and Jackson Martinez, blinked first in the substitutions stakes, bringing on striker Adrian Ramos for midfielder Victor Ibarbo at halftime in hope of an early equaliser and with it a possible "maybe we can then induce a meltdown from the hosts" situation.

Colombia certainly controlled the game much better in the second period, putting Brazil under quite a bit of pressure without really giving Julio Cesar too many heartaches. However, the longer the pressure was kept on, the more likely an equaliser would come, and Colombia did put the ball into the net with Mario Yepes netting from close range after a melee inside the penalty area off a Rodriguez freekick. But, much to Colombia's chagrin the goal was ruled out with the assistant referee raising his flag for offside much before the ball actually found its target.
Minutes after that non-goal, Brazil would double their lead, and what irony that it was the best player of the tournament so far who gave away the freekick with Rodriguez, who did get a bit of treatment from the Brazil midfielders, bringing down Hulk, who was on his way to another slaloming run.
With 30 yards and more to goal, there did not look to be too much threat for Colombia, but in stepped David Luiz, who had watched Neymar blaze a couple of freekicks well over, to thump one past Ospina, who had little chance of stopping the thunderbolt from the defender – it is the kind of goal that Luiz has scored a few times in the past, but none of those would have meant more than this, his second in two World Cup games.
This Colombia side are pure quality, though, and they relied on their attacking powers to force their way back into the game. Rodriguez, of course he was, was very much involved, slipping in a perfect through ball for substitute Carlos Bacca, with the forward taking a first touch to get beyond Julio Cesar, who decided to clean up his opponent with Spanish referee Carlos Velasco Carballo having little hesitation in pointing to the spot – it was a challenge that Cesar did not need to make covering.
Rodriguez, hungry for his sixth goal of the 2014 World Cup and even hungrier to get his team back into the game, stepped up, sent Cesar the wrong way before calmly placing the ball into the net to cue some final minutes drama.
Colombia threw everything at Brazil in the remaining 12 minutes plus stoppage time, and even though the hosts quelled those attacks, the partisan crowd were left a little deflated towards the end with their talisman Neymar stretchered out after hurting his back following a barge by Juan Zuniga.
While that incident might have tempered the celebrations a little, the result is one still worthy of plenty of praise against a seriously formidable Colombia side, even if the second half performance was not as good as the chance-after-chance first 45.
A complete 90 minute performance against Germany, and Brazil might just be in that dream final at the Maracana.