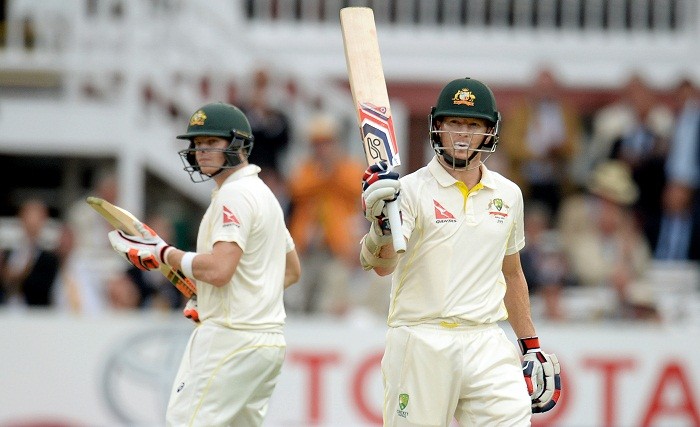 England might have clinched the 2015 Ashes against Australia 3-1, but the visitors will be eager to finish off the series on a high by winning the final and the fifth Test, which starts on Thursday at The Oval.
England have completely dominated the series so far barring their loss at Lord's, else their performance in the series have been top class. All their batsmen and the bowlers have put up a spirited performance to win the prestigious little urn.
None of the four Test matches have seen the full five days being played in the series and one will not be surprised if the fifth Test also ends within the first three or four days. Most of the Test matches finished early due to Australia's poor batting performance.
After having been completely outplayed, it is not going to be an easy outing for the Aussies at the Oval as well.. The final Test match is going to test the character of the Australian team.
"I think this Test is as much about our character as anything else. We need to play with that resilience and grit and determination and really fight as hard as we possibly can. The past couple of Tests in particular have only gone two-and-a-half days so we need to try and take this as deep as we possibly can. That's going to come down to fight - and that's a big part of why you play, why you look forward to playing cricket for Australia," ESPN Cricinfo quoted Australia's skipper Michael Clarke.
The fifth Test match is going to be huge for two Australian players – Clarke and Chris Rogers – who have both decided to retire after the Oval Test. Rogers has been Australia's best performer in the series with the willow.
A victory in the fifth Test could prove to be a perfect farewell gift for the two batsmen, who have a huge role to play in the future. Australia will now look upon players such as Steven Smith and David Warner, who have been both decent in the series, to fill their shoes.
As far as the England team are concerned, they must be high on confidence and will be eager to defeat Australia one more time in the fifth Test and take the series 4-1. This series has showed the unpredictability of the sport as Australia were considered favourites for the series and look at the present situation, where the Aussies have been outplayed.
But one has to give credit to Alistair Cook and his boys, the way they have taken their game to another level to defeat the mighty Aussies in a convincing manner.
With batsmen such as Joe Root and Ian Bell in good form and bowlers such as Stuart Broad and Steve Finn in prime form, they have a confident bunch of players to spoil Clarke and Rogers' farewell party.
Where to Watch Live
England vs Australia fifth Test is scheduled for 11am local time start (3:30pm IST, 6am ET, 7:30pm AEST) with live TV coverage in India on Star Sports 1/HD with live streaming on starsports.com.
Viewers in the UK can watch the game live on Sky Sports 2 with live streaming on Watch Sky Sports and Sky Go, while Australian viewers can catch the action live on Nine Networkand online on CA website.
US viewers can watch the second Test live in TV on One World sports and ESPN with live streaming on Watch ESPN.