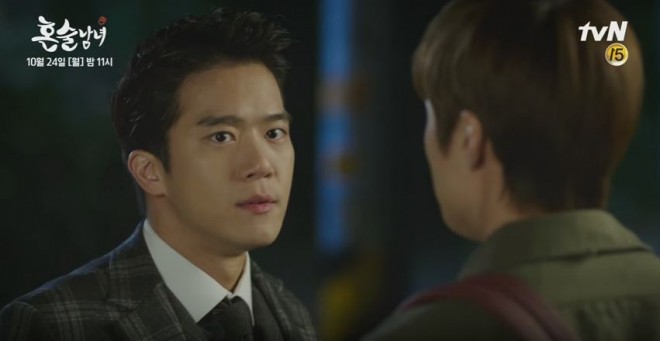 Drinking Solo is just a day away from its finale and it will take its viewers through a roller coaster of emotions in episode 15. The sequel is scheduled to air on tvN tonight, October 24, at 11 pm KST.
The upcoming episode will primarily focus on the love triangle between Jin Jung-suk, Park Ha-na and Gong-myung. Click here to watch the sequel live online. The episode will also be available online on the official YouTube Channel of tvN.
The period drama will pick up right from where it left of the popular siblings of Noryangjin Institute. In the sequel, the star lecturer found it hard to believe that his younger brother is in love with the rookie lecturer. Although he thought that it is an infatuation of a teenage boy, gradually he realised that it will not be easy to convince him.
So, episode 15 is likely to feature the sacrifice of Ha Seok-jin's character, who might figure out different ways to drive Ha-na apart. In the official trailer, the female lead is seen struggling to drink alone at a restaurant. She cries out loud when Gong Myung reaches out to her.
In the promo, Park Ha-sun's character is seen asking her student why is it necessary for her to know everything and her words make him furious. In the next scene, Ha-na's crush is seen confronting his own brother for being cruel to her. He asks the male lead, "Why did you date her if you had to break her heart like this?"
The sneak peek video ends by featuring a confused Ha-na, who tries to find out why the two are angry with each other. Watch the trailer below: