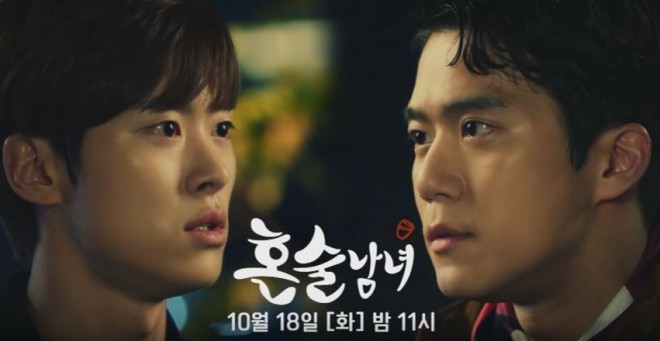 Drinking Solo just took an interesting turn in episode 13 that could trigger a sibling fight between Jin Jung-suk and his brother Jin Gong-myung in episode 14. The sequel will air on tvN tonight, October 18, at 11 pm KST.
In addition, the sequel will potentially resolve the love triangle between Kim Ki-bum, Jung Chae-yeon and Gong-myung while making way for Hwang Jin-yi and Min Jin-woong to fall in love. For the fans of Park Ha-na, it will be the most exciting episode as she will go on a date with her long time crush.
Click here to watch Drinking Solo episode 14 live online and find out what lies ahead for director Kim Won-hae and his student Kim Dong-young as they get entangled in a love triangle of their friends. The sequel will also be available online on the official You Tube Channel of tvN.
The official trailer for the next episode indicates that the teachers and students of Noryangjin Institute will have an interesting weekend to enjoy with their friends. The clip begins with a shot of Park Ha-sun's character preparing herself for her first date with the male lead.
In the promo, the couple plans to go out on a lunch date at Gyeongnidan-gil and spend the rest of the day at some romantic places. But things take an unexpected turn after director Kim calls them up for a team outing.
Although the director believes that going out for hiking will help in building teamwork, it will make the star lecturer furious because he wants to spend sometime alone with his lover. To everyone's surprises, Jung-suk joins the team and claims that he often opts for hiking on the weekends. His presence makes Ha-na happy and the director realises their feelings for each other.
On the other hand, the ninth grade students of the institute organise a crazy team party, wherein they make fun of each other. However, Gong-myung does not seem to be very keen about it. He sits alone and quietly observes his friends. Towards the end of the party, he informs his friends about the relationship between his brother and the rookie lecturer and how he is left heartbroken.
The sneak peek video ends hinting at a sibling fight, wherein Gong-myung is seen confronting his brother and saying, "I can let her go if she is with a good guy. But I absolutely cannot give up on her." Watch the trailer of Drinking Solo episode 14 below: