Chennai Rhinos and Bhojpuri Dabanggs will take on Mumbai Heroes and Bengal Tigers respectively in their last league matches of the Celebrity Cricket League (CCL) 5.
First Match: Chennai Rhinos vs. Mumbai Heroes
Venue: Sardar Vallabhbhai Patel Stadium, Ahmedabad
Timings: 2.30-6.30 pm
Group: B
TV Channels: Colours TV, Rishtey, Sun TV
Chennai Rhinos and Mumbai Heroes both have qualified for the semi-final stages. This match is played to top the points table. Importantly, the teams will try hard to continue their good momentum.
Chennai Rhinos Squad:
Jeeva, Vishnu, Vikranth, Vishal, Ramana, Prithivi, Shanthnu, Ashok, Balaji, Aarya, Sharan, Sanjay, Bharath, Bose, Shaam and Uday.
Mumbai Heroes Squad:
Bobby Deol, Sohail Khan, Suniel Shetty, Aftab Shivdasani, Sonu Sood, Saqib Saleem, Rohit Roy, Samir Kochhar, Vatsal Sheth, Amit Purohit, Raja Bherwani, Armaan Kohli, Indraneil Sengupta, Rajneesh Dugaal, Jay Bhanushali, Jeetu Varma, Shabir Ahluwalia, Apoorva Lakhia and Varun Badola.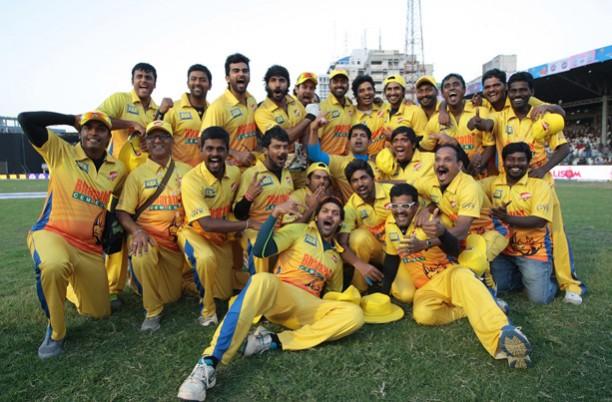 Second Match: Bhojpuri Dabanggs vs. Bengal Tigers
Venue: Sardar Vallabhbhai Patel Stadium, Ahmedabad
Timings: 6.30-11 pm
Group: A
TV Channels: Rishtey, Big Magic, ETV Bengali
Bhojpuri Dabanggs and Bengal Tigers both have not opened their winning account in this season of Celebrity Cricket League yet and they will be trying their best to win the match as they are already out of the tournament.
Bhojpuri Dabanggs Squad:
Manoj Tiwari, Ravi Kishan, Dinesh Lal Yadav, Uday Tiwari, Ajhoy Sharrma, Vikrant Singh, Aditya Ojha, Praksh Jais, Ayaz Khan, Shaikesh Sinha, Vaibhav Rai, Asgar Rashid Khan, Vikas Singh, Akbar Naqvi, Gajender Pratap Dwivedi, Jay Prakash Yadav, Raj Chouhan, Pawan Singh, Bobby Singh, Pradeep Pandey, Yash Kumar and Sachin Mishra. Follow the below links to watch the live streaming online.
Bengal Tigers Squad:
Jisshu, Dev, Rahul, Amitabh, Joy, Suman, Uday, Vinaayak, SRV, Indrasish, Yousuf, Debrah, Raja, Mohan, Sandy and Saugata.
Where to Watch The Matches Online
http://www.ccl.in/live.php
https://www.youtube.com/user/ccl