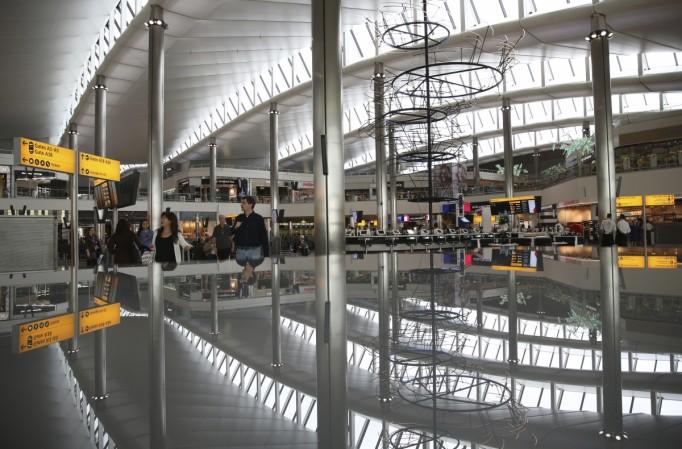 Smoke was seen billowing from a car that caught fire outside Heathrow Airport in London, United Kingdom, Saturday morning. Several social media users shared videos and photos that showed emergency services battling the blaze.
The London Fire Brigade and Heathrow Airport Fire and Rescue Service have safely dealt with the situation. Metropolitan Police Service's Aviation Security Operational Command Unit, which is responsible for providing policing and security at the airport, tweeted that no one was injured in the incident.
The police also said that there has been no suspicious circumstance and the incident caused minor congestion.
Twitter users @BellaBambinaxX and @JonnieofB shared a photo and video on the social media platform.
"@hethrowairport @BBCNews @BBCBreaking FIRE AT HEATHROW TERMINAL 4??? What's going on???," BellaBambinaxX tweeted with the photo.
"HEATHROW 6.55AM. @EdwardW54427645 @The_LCDC @BBCRadioLondon @lbcbreaking Probably cheap n dangerous Uber. @IainDale Still the public love slave driver's in unsafe cars. @TfLTrafficNews," JonnieofB tweeted and shared the video.
Aviation Policing replied to the users and said there is nothing to worry. "Nothing to worry about. Car fire now out. No suspicious circumstances."
"Morning, a member of the public is now without their vehicle following this non-suspicious vehicle fire. Nothing to do with Uber or any other company. Private owner. Thankfully no one injured. #DontAssume," they tweeted clarifying that the private car had nothing to do with Uber.
"Terminal 4 departures forecourt now running freely. Congestion caused by earlier car fire has been cleared. Awaits recovery of vehicle. #Heathrow #AirportCops," the tweet read.
Watch the video below: