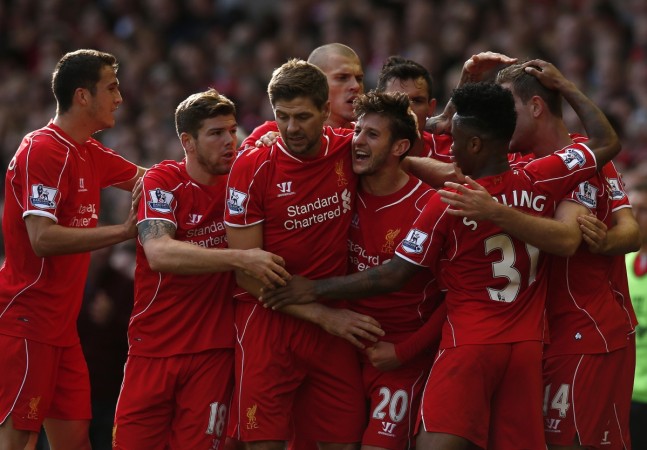 Liverpool will be travelling to the Goldsands Stadium to take on Championship leaders AFC Bournemouth in the quarter-finals of the Capital One Cup on Wednesday.
After doing so well in the 2013/14 campaign, where they nearly clinched their first Premier League title since 1990, Liverpool seem to have lost their bearings as they are currently nowhere close to the way they were playing last season.
Liverpool, which were in the fifth place, only five points behind leaders Arsenal in the Premier League in 2013/14, are currently in 11th place, 18 points behind leaders Chelsea.
The Merseysiders have also been very poor in the Champions League this season as they have failed to progress from the group stages of the competition.
However, despite their woes in the Premier League and Champions League, Liverpool will be hoping to at least do well in the Capital One Cup, the competition they last won in the 2011/12 season.
Liverpool were not convincing in their first Capital One Cup fixture against Middlesbrough as they just managed to edge past the Championship side, following a historic 14-13 penalty shootout, after a 2-2 draw in normal time.
However, they were a lot better in the fourth round against Swansea City, who they beat 2-1.
Now the Reds are faced with Championship leaders Bournemouth, who will certainly prove to be formidable opponents against the struggling Liverpool side.
But Liverpool boss Brendan Rodgers insists that this game is an opportunity for the Reds to get their confidence back and reach the semi-finals of the Capital One Cup.
"We wanted to have a right go at all of the cup competitions this year and the game on Wednesday will be an opportunity for us to get into the semi-final," Rodgers told Liverpool's official website. "It would obviously give us confidence to get through and then go into a two-legged semi-final."
The Northern Irishman also claims that Liverpool will be aiming to win the Capital One Cup if they manage to beat Bournemouth on Wednesday.
"We're in competitions to win trophies, so if we can get the victory against Bournemouth and get through, the aim for us would be to hopefully go on and win the competition," added the former Swansea City boss. "This is the first cup competition that you can win, so it was always a priority for me."
Meanwhile, Bournemouth will be aware that they have a good chance of progressing to the final four of the competition due to Liverpool's poor form this season.
The South Coast side will also be boosted by their own run of good form, which has resulted in them moving the top of the Championship table with a 12-match unbeaten streak.
They have also been doing well in the Capital One Cup, beating the likes of Cardiff City (0-3) and West Bromwich Albion (1-2) to make it to the final form.
However, despite them doing well and Liverpool not being in the greatest of forms, Bournemouth boss Eddie Howe admits that the Reds will be a very formidable opponent.
"Liverpool will be wanting a response, and I think they will take this competition now very seriously in their list of priorities," Howe told the Mirror.
"There has been a lot of over-reaction to Liverpool's recent form, but they are still a top-quality side, very well-managed and coached, with some outstanding players."
Nevertheless, Howe insists that they do not fear Liverpool and will be looking to play their natural attacking game against the Reds on Wednesday.
"We certainly respect Liverpool - but I don't think we should fear anybody," he added. "Part of our blueprint is to be positive and to go into games and try to attack - and I don't think this game will be any different."
"At the moment the lads look really confident in front of goal and, to have a chance of being successful, you need that confidence to run right through the team. For us to have any chance, we are going to have to be at our very best and have a lot of luck."
Where to Watch Live
The game is set for an 7:45pm GMT (1:15am IST, 2:45pm ET) start with live coverage on Ten Action and Ten HD. The action can also be watched via live streaming online in India on Ten Sports Live.
Sky Sports 1 and Sky Sports 1 HD will show the match live in the UK and viewers can also watch the match via live streaming online on Sky Sports Online. Listen to the game via radio on BBC Radio 5 Live or on their website. Catch the action in the US on TV on beIN Sports USA, while the game can also be Live Streamed online on beIN Sports Online.
Audience in the Middle East and North Africa can watch the game via live streaming online on beIN Sports Connect, while South Africa and Sub Saharan Africa viewers can live stream the match on SuperSport online.