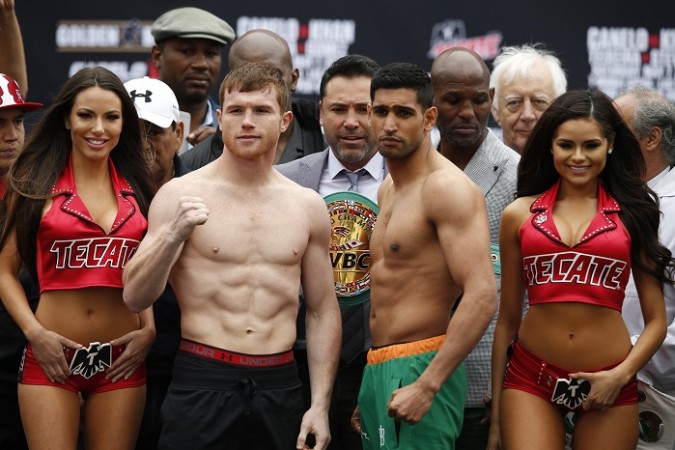 The day has finally come when Amir Khan will face the bout of his life. The British boxer will be keen to hand a huge upset as he prepares to fight Canelo Alvarez for the WBC middleweight title at T- Mobile Arena in Las Vegas on Saturday.
Click here to read how Alvarez defeated Khan.
The fight has been billed as the biggest bout of the year so far, and fans in the arena, which can hold 20,000 people, will hope that the two boxers will live up to the expectations.
Both the pugilists have their respective pros and cons. Khan has one of the fastest hands in the business, and his movement is second to none.
Alvarez, on the other hand, is a strong boxer, who will rely on his power, which has seen a number of other boxers in the past being floored. Hence, it is such quality of Alvarez, which has helped him gain the "favourite" tag. And Alvarez's career record of one loss – against Mayweather – suggest the Mexican is a tough nut to crack. Since that loss to Mayweather, Alvarez has only matured as a boxer, and has become a force inside the boxing ring.
Khan being second favourite is not a huge surprise as the boxer had to move up two weight division, to fight Alvarez. But it could work on Khan's side as the British boxer will not be under immense pressure, which could result in one of his best bouts inside the boxing ring.
There are risks (huge loss) with his move up in division for the bout, but the rewards are even bigger as the winner of the bout has to face Gennady Golovkin. Khan, who failed to land the bout against both Floyd Mayweather and Manny Pacquiao in the past, will consider this a golden chance to meet two mega stars in succession.
Golovkin is expected to be in ringside to have a closer look at his future opponent. Fans and critics have already been talking about the potential Alvarezand Golovkin clash, but the Mexican has to keep his focus on Khan at present.
If Alvarez tries to knockout Khan, the British boxer could stun the champion by tiring him and taking the bout to full 12 rounds, and win via points. It would be a huge surprise if Khan wins via knockout.
With bout of such magnitude, Khan and Alvarez will come with their homework done. So, it is time for them to execute their plans to perfection when it matters most on Saturday. Both the boxers have been involved in some serious training sessions to remain in perfect shape for this bout.
Khan's trainer, Virgil Hunter, believes it is imperative for his pupil to stick to his plans, and see how it goes.
"When the fight starts, he has a plan. If he deviates from those plans, he has to deal with the consequences. However, if he's successful with what he feels then I'll be on the same page as him. Whatever is working, let it work," Ring Tv quoted Hunter as saying.
Where to watch Khan vs Alvarez Live
The Las Vegas event, which will be headlined by the WBC middleweight title bout between Amir Khan vs Canelo Alvarez, is scheduled to start from 9 p.m. local time onwards, May 7 (2 a.m BST, 6:30 a.m. IST, May 8)*. Unfortunately, there is no live coverage of the bout in India.
Viewers in the UK can watch Amir Khan vs Canelo Alvarez bout on Box Nation, with live streamingon Watch Box Nation. Viewers in Mexico can watch the Amir Khan vs Canelo Alvarez title bout on TV Azteca.
US viewers can watch the great boxing match on HBO.
Pakistan viewers can watch the Amir Khan vs Canelo Alvarez bout on PTV Sports.
However, before the Khan vs Alvarez fight, there are several undercard fights, which will take shape. *The bout timing of the Khan vs Alvarez fight will depend on the duration of the undercard fights as well.
Full undercard:​
Patrick Teixeira vs Curtis Stevens - 10 x 3 Minute Rounds Middleweight
Frankie Gomez vs Mauricio Herrera - 10 x 3 Minute Rounds Welterweight
David Lemieux vs Glen Tapia - 10 x 3 Minute Rounds Middleweight