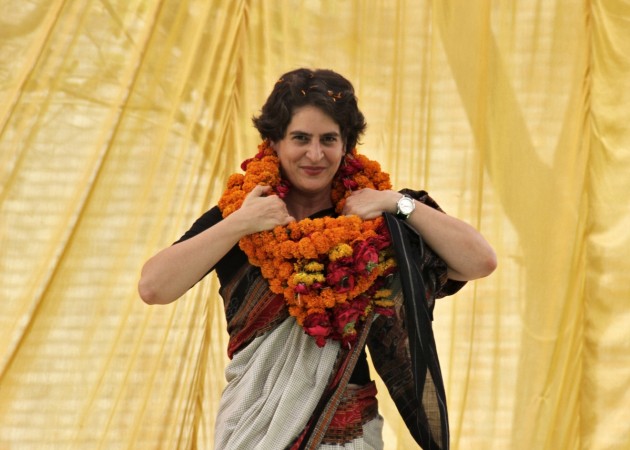 The BJP went on the back foot on Wednesday after one of its leaders, Vinay Katiyar, was shown on video as saying that there were prettier campaigners than Priyanka Gandhi. He had apparently been asked to comment on Congress president Sonia Gandhi's daughter being chosen as a star campaigner for the Uttar Pradesh Assembly elections.
Also read: UP Assembly Elections: Priyanka Gandhi, Sheila Dixit may have big roles to play in upcoming polls
There had been rumours for some time that Priyanka might campaign alongside Dimple Yadav — wife of UP Chief Minister and Samajwadi Party (SP) chief Akhilesh Yadav — after the Congress and the SP would announce their alliance before the election. That possibility came even closer to reality when the parties managed to agree on a seat-sharing formula.
What Katiyar said
Then, on Tuesday, the Congress released a list of its star campaigners, which included Priyanka's name. While there was speculation on whether she would test electoral waters next time, reactions flew thick and fast on the development.
Katiyar was subsequently approached by news agency ANI with the question of whether Priyanka being a star campaigner for the Congress would help the party's chances in UP. He is heard saying in the video: "No. What difference will it make? There are many women and girls prettier than her who are star campaigners. There are heroines and artistes [who are more beautiful]."
Congress reacts
Sections of the Congress were quick to react to Katiyar's comments. Priyanka reportedly told Tavleen Singh: "Ha ha ha! He's right, they do!! And if that's all he sees in my colleagues who are such strong, brave and beautiful women that have battled through all sorts of hardships to get where they are, then he makes me laugh even more. Because he exposes the BJP's mindset towards the better half of the population of India!"
Congress spokesperson Randeep Singh Surjewala, however, trained his guns on Prime Minister Narendra Modi, saying: "These atrocious remarks show the petty and lowly mindset of the BJP's leadership towards the women of India." He added: "[It is] time for PM Modi and [BJP national president] Amit Shah to apologise."
Watch the video here: