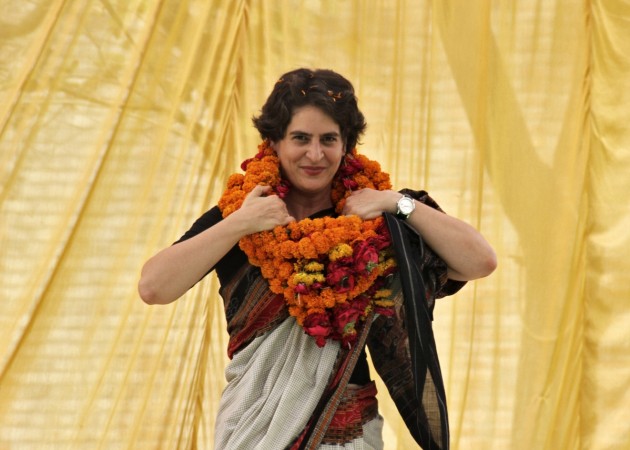 A flagging Congress seems to be turning to its best bet in times of need, with reports claiming that Priyanka Gandhi will address several rallies in the politically significant state of Uttar Pradesh, where Assembly elections are due to take place in a few months. Some reports, meanwhile, have gone as far as to claim that Priyanka will lead the the election campaign in the state, even as former Delhi chief minister Sheila Dixit has been tipped to be the party's chief ministerial candidate for Uttar Pradesh.
According to an NDTV report, the Congress' campaign in UP will entail a big role for Priyanka. She has so far shied away from politics, choosing only to campaign in the constituencies of her mother Sonia and brother Rahul in the 2014 general elections. The Congress received a huge setback in the elections, and although those within the party core seem to have no problem in Sonia continuing as Congress president and Rahul as vice-president, fringe elements have from time to time called for a bigger role for 44-year-old Priyanka.
Now, with Priyanka joining active politics, observers believe it is only a matter of time before she tests political waters, and a matter of some more time before she succeeds the rest of the members of her family in leading the Congress, which always seems to rely on a Gandhi because of the effect the surname still has in many parts of India. Whether the newest Gandhi manages to reinvigorate the rank-and-file and breathe new life into the party is the big question now.
Meanwhile, Sheila Dixit's possible projection as the party's chief ministerial candidate may be an interesting move, in light of her having recently refused the offer. Sheila, whose tenure as Delhi chief minister was tarnished by quite a few scams under the regime, may in fact be a dummy candidate for the Congress, with parallels already being drawn between the dynamics Sonia and former prime minister Manmohan Singh shared, and Priyanka and Sheila.
The understanding here is Priyanka could lead the campaign, and if it was successful, she could get the credit, but if it failed, she would not be reproached, with the blame falling on Sheila. Priyanka's strategy will also come under intense scrutiny, because the state has been ruled alternately by the Samajwadi Party and the Bahujan Samaj Party for quite some time now, and the BJP is gaining ground.
It should be an interesting Congress campaign, with people looking forward to seeing Priyanka's style and flair, sparks of which were seen during the campaigning for the 2014 general elections, when Prime Minister Narendra Modi had called Priyanka "beti" [daughter] in a speech, and she had retorted that she was only Rajiv Gandhi's daughter, and no one else's. Wonder if she will be called something on the lines of "daughter of the soil" or someone or something else's daughter this time.