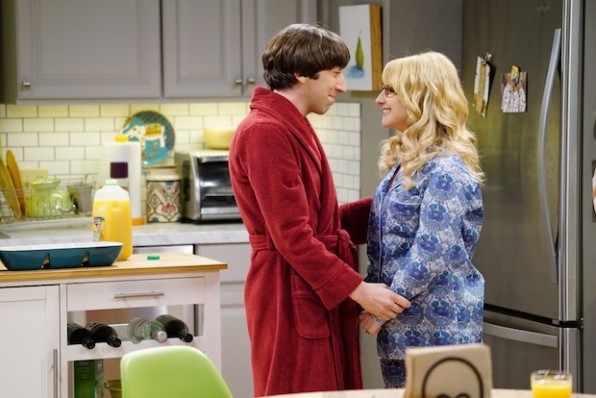 This Thursday's episode of The Big Bang Theory will see Howard and Bernadette struggling to meet the needs of a baby who doesn't stop crying. Season 10 episode 12 is titled The Holiday Summation and it will be aired live on CBS at 8 pm ET on Thursday.
Also read: Kylie Jenner and Tyga pack on PDA as she flaunts her curves in thong bikini
Warning: This post contains spoilers from Season 10 episode 12 of the sitcom.
According to a taping report of the episode on The Big Bang Theory wikia page, the episode will see Bernadette wondering if her baby hates her, as the infant refuses to stop crying. Realising Bernadette won't be able to handle the baby alone, Howard applies for paternity leave.
The latest addition is sure to bring a few changes to the dynamics of the show.
"I don't know when that's going to happen but it will be interesting to watch how it affects all of their dynamics in those episodes where we have the baby," showrunner Steve Molaro told The Hollywood Reporter. " It's also just as easy to go back to work and somebody is taking care of the baby and it's Big Bang as usual."
Elsewhere in this Thursday's episode, we'll see Sheldon and Amy visiting his mother Mary for the holidays who does not bat an eyelid when her son announces that he is living in with Amy. When Sheldon expresses surprise that his religious mother isn't offended, she reveals that it's a vast improvement, considering she never thought a girl would be interested in him.
This hurts Sheldon, who protests by wearing underwear on his head and later by piercing his ear.
"Sheldon and Amy visit Leonard and Penny for the first time since the holidays and share details about their terrible trip to Texas," reads the synopsis for The Holiday Summation.
The Big Bang Theory airs Thursdays on CBS.