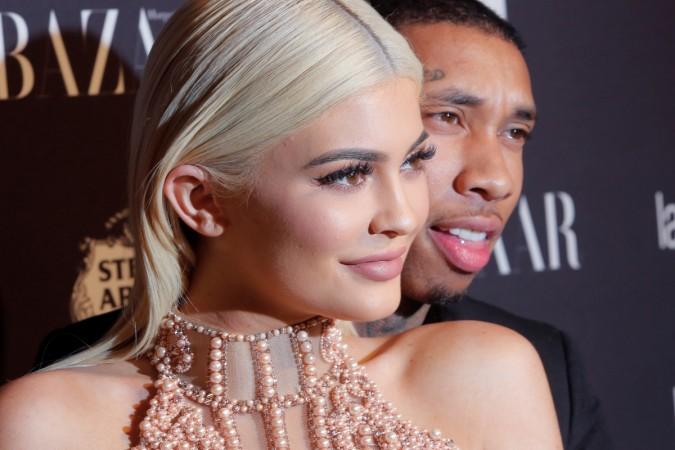 Kylie Jenner and her boyfriend Tyga are currently in Mexico, enjoying a short getaway. The couple was photographed on Wednesday, packing on public display of affection while lounging near the poolside of their hotel.
Also read: Details about Kylie Jenner's sex life with Tyga go up on her app and she is not happy
A photograph on TMZ's website shows Tyga grabbing on to Kylie's butt as she flaunted her curves in a tiny thong bikini. In another photo, Tyga is seen lying on the lawn chair while Kylie leans over him. He is seen grabbing her thigh in this picture.
Kylie's Instagram page is also filled with sexy photographs of their time in Mexico, and according to a HollywoodLife source, these pics are meant for her fans as well as Tyga. "Kylie isn't just posting for her fans, a lot of these pictures she takes for Tyga," the source said. "She loves turning him on and a super big booty is his thing, it really gets him hot."
"Kylie loves winding him up, it makes her feel good to be desired," the source continued. "She sends him pictures of herself all the time but putting it up on social is a more public way to excite him. He gets off knowing all these dudes are looking at that — and it's all his."
Besides heating up the scene in Mexico, Kylie and Tyga also spent quality time with their friend Jordyn Woods, and Tyga's son, King Cairo.
Kylie opened up about her romance with the rapper in the October-November issue of Complex Magazine, saying not many approved of their relationship initially. "The first year we started hanging out everyone around him told him not to be with me," she said. "I still get comments like, 'Don't be with him.' People will hate on our relationship, but we're not doing it for the public—we love each other. We have a love for each other like I've never felt before."