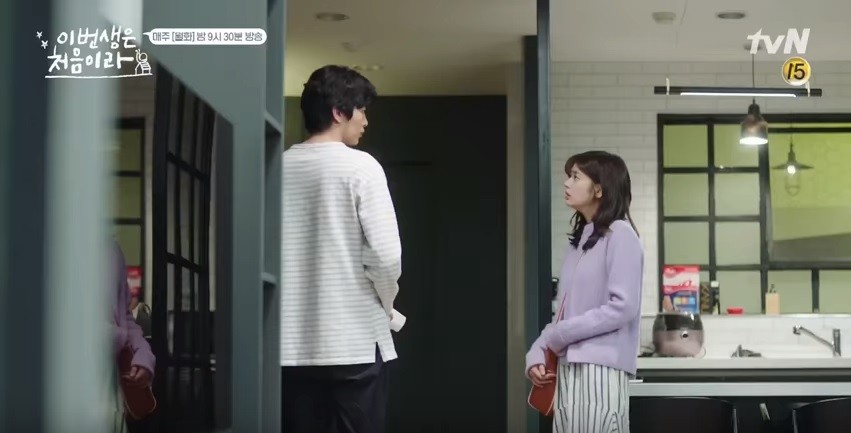 Because This Is My First Life, the tvN romantic comedy-drama, will be back with episode 7 this Monday, October 30, 9.30 PM KST. This chapter will focus on the complicated relationship between software engineer Nam Se Hee and former screenwriter Yoon Ji Ho.
The screenwriter tied the knot with her landlord Nam Se Hee because she needed a place to stay. Yoon Ji Ho did not have any expectations from Nam Se Hee until she overheard a conversation he had with her mother.
Yoon Ji Ho became more excited after hearing the words "us" and "we" from Nam Se Hee. She started dreaming about a happy life with her landlord. But he quickly reminded her about their agreement and earned her fury.
Also read Because This Is My First Life garners positive reviews
In episode 7, the screenwriter could do anything to hurt her husband. The promo shows her roaming around with a new guy and it captures the attention of her landlord/husband. When he asks her about the guy, she informs him that it was their first meeting.
"I guess you two have gotten close already," he replies and she curiously asks him, "Are you mad at me or something?" Then he asks her why he should get angry. Shortly, Nam Se Hee also tells Yoon Ji Ho's friends that he does not have any right to interfere in his wife's private life.
Elsewhere, Yang Ho Rang is likely to call it quits with Sim Won Seok. In the preview, she tells him, "I suddenly feel like I'm not experienced enough. I want to be extra careful since I'm never going to get married."
The trailer also hints at a friendship between Woo Soo Ji and Ma Sang Goo, as the video shows them spending quality time with each other. "If I stay with you any longer, I think I will eat you up," Woo Soo Ji tells Ma Sang Goo in the footage.
Watch the trailer below:
Click here to watch Because This Is My First Life episodes 7 and 8 live online. Korean drama lovers can also catch up with the latest episodes of the show on various video streaming sites, such as Viki and DramaFever.