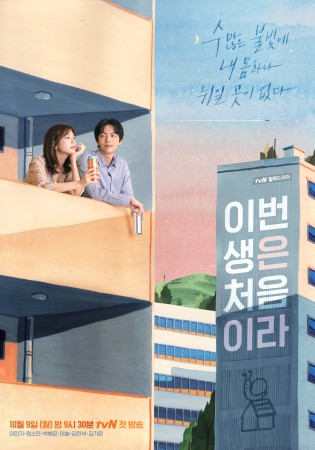 Because This Is My First Life, the tvN romantic comedy drama starring Lee Min Ki and Jung So Min in lead roles, has garnered positive reviews from viewers. The show will be back with episode3 next Monday, October 16, at 9.30 PM KST.
The Korean mini-series revolves around the life of a 38-year-old bachelor named Nam Se Hee and his relationship with the 30-year-old housemate, Yoon Ji Ho. While Nam Se Hee is a software engineer, Yoon Ji Ho is a screenwriter.
The duo began to stay under one roof due to a misunderstanding created by their friends. When the female lead moved in to the engineer's house, she was under the impression that the house belongs to a hard working lady. Similarly, the male protagonist also believed that he is staying with a man.
Also read Actor Lee Min Ki to be back on TV after 10 years
The onscreen couple accidentally met each other on a weekend and tried to sort things out between them. But Nam Se Hee's mother did not allow him to stay with an unknown woman and Yoon Ji Ho was forced to move out.
When the female lead could not get a safe place to stay, she came back and the male protagonist proposed her for marriage. He did not do it because of his feelings for her, he wanted to make his parents happy without any commitments.
On the other end, the screenwriter needed a safe place to stay and she knew that it is difficult to get anything better. So, she quickly agrees to tie the knots with him. It remain to be seen if their wedding will be on the cards next week.
To find out what lies ahead for the onscreen couple and their loved ones, watch Because This Is My First Life episode 3 next Monday at 9.30 PM KST. In the meantime, you can catch up with the first two episodes online here.
Check out some of the reviews on Because This Is My First Life below:
I started this drama without any expectations and I'm glad I did because I freaking love this drama it easily became a favourite of mine... Really love how the storyline is progressing
This drama is very interesting from the beginning. Storyline, character and their chemistry are amazing. I hope this drama will have many episodes, really worth it to watch!
I start to watch it because of kim min suk, but the story itself is interesting and made me love it. Will continue watching.
2 eps and I love it already.It's really different in a good way. Dialogues are great and characters are well defined. Writers and cast are doing an awesome work.