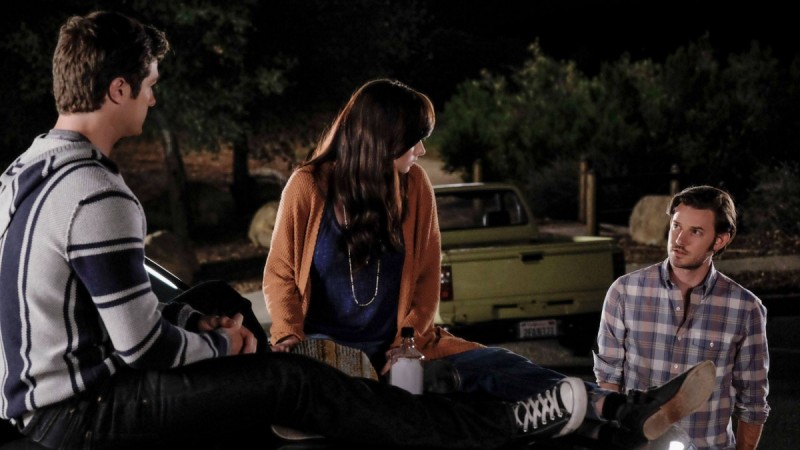 Life without friends could be boring or in Jenna's (Ashley Rickards) case, life without Matty (Beau Mirchoff) could be boring. Just after one of her worst fights with Luke, the protagonist of "Awkward" meets her ex-boyfriend from high school in Season 5 episode 22 titled, "Home Again, Home Again."
The title of the latest episode of the MTV series indicates that Jenna's relationship with Matty will allow her to experience a sense of familiarity she's been missing. The two, who haven't spoken in a while, will bump into each other at Camp Pookah, which proves to be a fertile ground for friendship.
Matty and Jenna will bond over their respective relationship problems, which revolve around Luke and Sully. When Matty talks about his problems with his ex, Jenna takes this as cue to spill her problems with her partner.
The Mr. Right in her life, Luke, didn't turn out to be the nicest boyfriend after all. In episode 21, he yelled at her for writing yet another article on her relationship. Luke's anger, unaugmented, was directed at her for jeopardising his career at IdeaBin.
However, the promo for episode 22 hints at an apology that might come Jenna's way. In the preview clip, Luke hunts down his girlfriend but instead finds her in a state of drunken happiness with Matty. Their Camp Pooka tryst seems to have ended with more fun that doesn't fall in the PG 13 category.
Will Jenna's closeness with Matty annoy Luke? Will he end it in episode 22? Will Matty and Jenna get back together after they find themselves single again? This remains to be seen.
"Awkward" Season 5 episode 22 airs at 10 p.m. EST on Tuesday, May 17 on MTV. You can stream the episode via MTV's website.