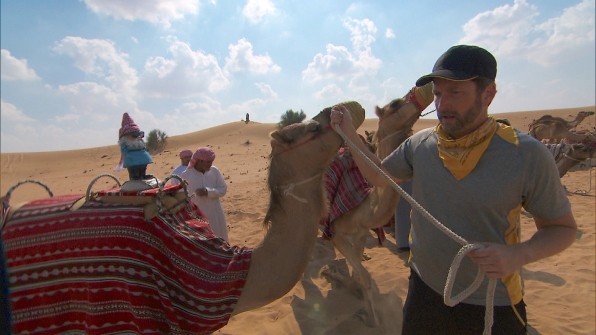 It seems that the teams will have some of the most dangerous and challenging tasks ahead in the next leg of CBS' "The Amazing Race" Season 28 titled "I Have a Wedgie and a Half."
To watch what new adventures await the remaining teams in the upcoming episode, CLICK HERE.
According to the synopsis of the episode by TV Maze, "The teams travel to Dubai where they race camels and swim with sharks."
Carter Matt has reported that the weather in Dubai will be much hotter than the Georgia, where the previous leg of the race occurred. The website has mentioned that Sheri and Cole might lose their way as they would be too exhausted and dehydrated because of the extreme heat.
Which of the teams will make it through the end of Episode 8 will be seen only one the episode airs.
In the previous episode titled "Welcome to Bloody Fingers 101," had to face a roadblock challenge that was much difficult than any of the previous ones.
Afterwards, the teams underwent a dance challenge where Korey had some difficulty as he had absolutely no idea how to dance even with the basic moves.
The teams then travelled to different locations to face their next challenges. Burnie and Ashley rode a bus in the countryside.
Taking about their experience so far, Burnie said: "We've wondered what could possibly be out here. We are thinking may be, there is, we have seen a lot of sheep." Ashley jokingly added: "Or Goats." Burnie replied: "We might be goat or sheep herding, which will be a lot of fun."
Jokingly, Ashley suggested making cheese with all the goats and sheep around them, to which Bernie agreed heartily.