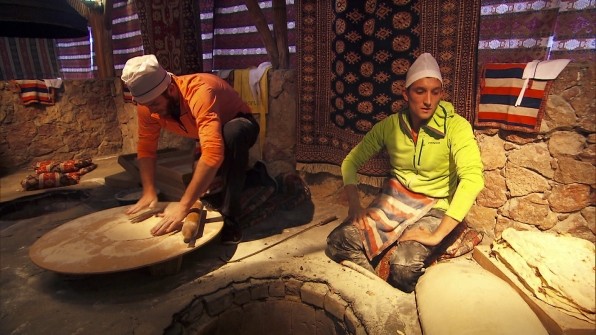 In the upcoming episode titled "Let the Good Times Roll" of "The Amazing Race" Season 28, the teams will travel to Yerevan, Armenia for the first time in show's history.
CLICK HERE to watch what new adventures await the teams in Armenia and which of them will make it to the end of the race.
As reported by Carter Matt, in the sneak peek of the episode, several teams (Zach and Rachel, Blair and Scott, and Tyler and Korey) can be seen working together on a detour while Kurt and Brodie are absent from the site.
According to the video footage, it seems that Tyler knows how to improvise and craft useful things from the available resources while Blair can be seen trying to make a video clip of whatever she has learnt throughout the race till this point.
The real competition will surely be between team Tyler and Korey and team Kurt and Brodie as they are tied on the top spot. Dana and Matt had a good start when the race began but for past few races, they are getting slower.
Since the other teams are struggling with the tasks and trying their best to get ahead on the leader-board, it is a good opportunity for Dana and Matt to outrun the others as they have already done the basic tasks.
In the previous episode titled "We're Only Doing Freaky Stuff Today," the teams began the race following the clues that hinted them to find a French license plate on a car.
They travelled to Les Grands Montets Gondola Station from where they journeyed to Les Grands Montets summit through a gondola. Team Erin and Joslyn were eliminated at the end of the race.