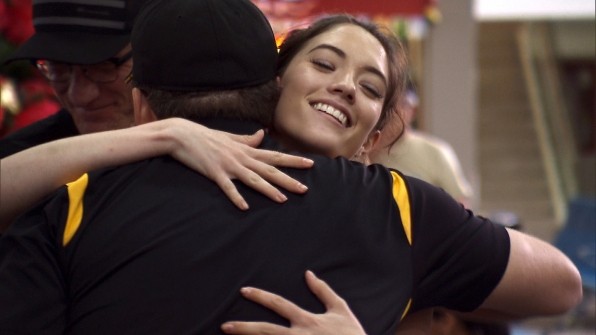 Things are going to take an unexpected turn as two members from different teams are involved romantically with each other in the upcoming episode titled "Get it Trending" of "The Amazing Race" Season 28.
CLICK HERE to watch what adventures await the teams in Switzerland and which of them will be eliminated in this round.
The teams were greeted with the fans as all of them are Internet stars and the crowd went crazy to get a glimpse of their favourite celebrity. As seen in the preview of the episode, once the teams reached the destination point, YouTubers Blair Fowler and Brodie Smith had a romantic moment while they were shipped together.
Smith, who is a professional Frisbee player, can be heard in the clip saying that he thinks Fowler is cute. Both Smith and Fowler are jokingly referred as "Blodie" by fellow teammates and best friends Korey Kuhl and Tyler Oakley.
With Smith having feelings for Fowler, the race will undoubtedly take an interesting turn as both of them belong to different teams and will have to compete against each other. However, which team will be eliminated in the next leg will be only found once the upcoming episode airs.
In an interview with Mashable, Darius and Cameron shared their experience and talked about their elimination from the race.
"Immediately after walking off the mat to our elimination, we went to this restaurant and it was pretty much just shock. You aren't expecting to be the second team out," Cameron said.
Talking about his experience of watching himself on the television months after filming the last episode, Darius said, "We looked good throughout the episode. I'm satisfied with what the show looks like. It's just different watching it and having been on it."
In the previous episode titled "Bros Being Jocks," the race continued in Cartagena, Colombia, where claustrophobia threatened to prevent one of the racers from going deep into catacombs to retrieve a clue.