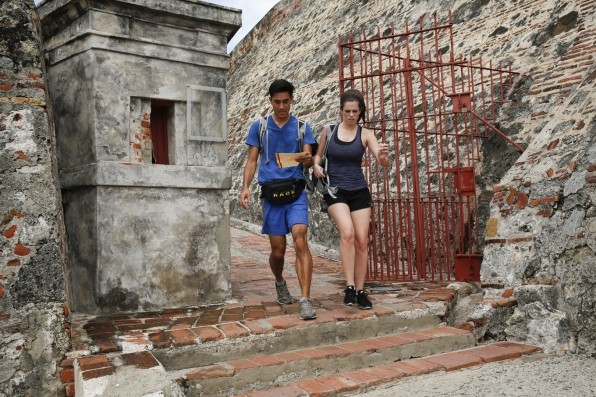 In the upcoming episode titled "Bros Being Jocks" of "The Amazing Race" Season 28, the teams will move to Cartagena, Colombia, where it seems that Zach and Rachel will find a fan.
CLICK HERE to watch what adventures await the teams in Colombia and which of them will be eliminated by the end of the episode.
In the promo of the episode, it can be seen that Zack King finds a helping fan in Colombia who is more than willing to help him for a selfie with the internet personality.
According to Carter Matt, the unexpected fan undoubtedly works to Zach's advantage as one of the tasks in Colombia involves convincing local people to travel with the team in their bus. While other teams might find it difficult to persuade people for trusting them, Zach and Rachel have already got a fan who knows them through the internet.
It seems that Zach and Rachel's vine videos are popular among non-English speaking people also that will surely give them an upper hand in the upcoming episodes as the teams will have to travel through several countries where people hardly know English.
However, whether they will emerge victorious in this leg of the race or not, it will be revealed only when the episode airs.
In the previous episode titled "You Look Like Gollum," after landing in Bogota, the teams travelled to Cartagena and performed a task of fish collection. There was another task where the teams played a local game called "Tejo."
In Bogota, the teams got a Route Info clue that guided them to travel to El Totumo Mud Volcano, where each member from all the teams performed a task on his/her own.
The task involved the teams climbing into a mud pit and search for the next clue in the muddy water. In the final leg of the race, they travelled to Parque de Bolivar, where they found Pit Stop for Leg 2.