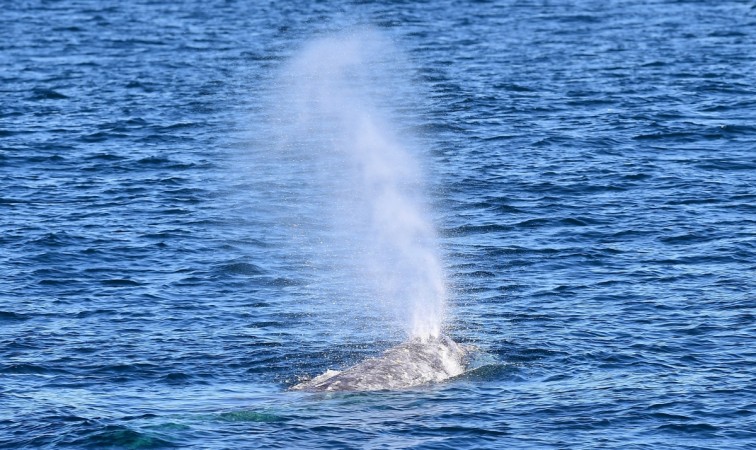 The rare sight of an ocean giant playing with its smaller friends and mimicking their moves has won millions of hearts on the Internet. A viral video shows a gray whale enjoying its ride south by frolicking with two Pacific white-sided dolphins.
Also read: Wikie is world's first killer whale that can talk like humans [WATCH VIDEO]
The whale was believed to be migrating southwards for the winter. It met two dolphins on its way near the Oceanside coast in California. Drone footage captured their bonding moment beautifully and gave netizens another reason to marvel at the beauties of the natural world.
In the video, the gray whale is seen copying the dolphins' moves by swimming with them, spinning in the water and spewing water upward. Soon, two other dolphins join the playful group.
All the animals keep moving south while they play and burst out of the water in turns, keeping up the joyous mood.
What is most astounding is the huge difference in the animals' size. The gray whale is about 40 feet long and weighs close to 40 tons, whereas the dolphins are merely seven-eight feet in length.
That, however, does not stop them from becoming unlikely friends and enjoying their journey through the ocean. The whale was apparently migrating toward Mexico in search of warmer regions for the winter, which is their breeding season.
Also read: Carcass of giant whale washes up on iconic beach in Brazils Rio de Janeiro
The friendship of whales and dolphins is not a very unusual thing. A few weeks back, two gray whales migrating to the Baja lagoons were interrupted on their journey by a group of 10 dolphins. All of them played and twirled around in the water for a while before going their own way.
Experts say this kind of interaction only occurs between these two species and has not been seen elsewhere yet. Pacific white-sided dolphins seek out gray whales especially when the latter move south for mating, and often spend hours or even days playing together.