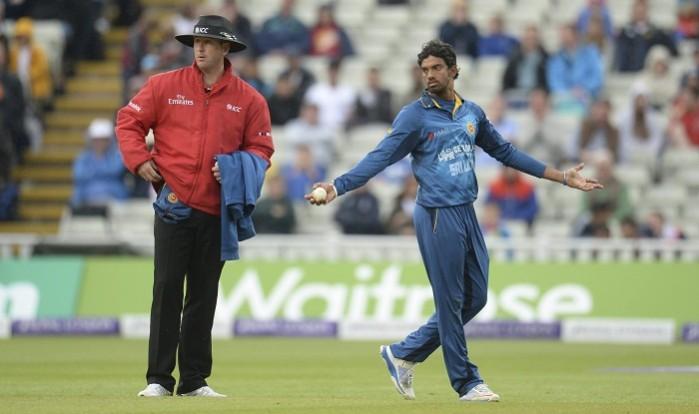 Sri Lanka will look to wrap up the series with victory in the 5th ODI against England in Pallekele on Wednesday.
The Lankans are 3-1 up in the series, following their victory in the fourth one-day international on Sunday, and with England still finding themselves and their best team in ODI cricket, smart money will be on Sri Lanka ending the series as a contest in the 5th ODI of this seven-match series.
Sri Lanka lost their key spinner Rangana Herath to injury, however, but that loss has been more than made up for by the return of Sachithra Senanayake, who has been cleared to bowl again by the ICC.
Senanayake was reported for a suspect action during Sri Lanka's tour of England in the summer, and the Islanders will certainly welcome the off-spinner, who was a vital one-day cog, back with open arms.
"It's hard to gauge how effective he is when he hasn't played international cricket yet," Sri Lanka coach Marvan Atapattu said. "The domestic cricket here is played at a different level. The big challenge is to perform with all the pressures of an international match.
"I have a lot of faith in Sachithra. Having seen him over the years, I know he's a tough character, and a player that is well-liked in the team. I trust that he'll be the same bowler, with a different action.
"When he was doing work with his action, we had cameras covering the matches that he played. He was comfortable then, and though I know that it is a different challenge and different pressure bowling on the international stage.
"But, knowing him, I think he'll be up for it. He was enthusiastic to get back as soon as he can."
England will have Alastair Cook back in the lineup, and with James Taylor impressing at No.3 in the last match, it does look like Alex Hales will have to cool his heels on the bench again.
Cook, who was given a one-match suspension for slow over rate, will be desperate to get back amongst the runs and silence those critics who feel he should not even be in the ODI squad.
"Your best eleven is going to change depending on the conditions and who you're playing against," England batsman Joe Root said when asked about why England have struggled to find a settled XI. "We've got to make sure in our practice, if you are in that best eleven, you do everything you can to go out and play at your absolute peak.
"All the guys know that, they know what their role is within the side when they fit into it. We've now got to make sure we put all our practice into performances."
Even if they might be 3-1 down, Root firmly believes his team are capable of winning the remaining three matches, even if they have barely looked capable of winning one.
"We showed in every game at some point along the way that we're capable of doing that, the thing for us now is to make sure that we put it into one complete performance," he added. "Even the game that we did win, we didn't play at our absolute best, which again is promising.
"You don't want to talk about being promising all the time, now's the time for us to step up and start putting in performances. This is a great opportunity for us to do it under pressure before a World Cup.
"We want to win this series. We know, looking at the wicket here, the conditions might be slightly different to Colombo and if we can get level going back into that last game it's going to be a great finish."
Where to Watch Live
The 5th one-day international is scheduled for a 2.30 pm local time (2.30 pm IST, 9 am GMT, 4 am ET) start with live coverage on Ten Cricket in India and Ten Sports in Sri Lanka. The match can also be watched via live streaming online on Ten Sports Live.
Watch the match live in the UK on Sky Sports 2, while the match can also be live streamed on Watch Sky Sports or Sky Go. Viewers in the US can watch the action on Willow TV or live stream the game on Willow TV Online.