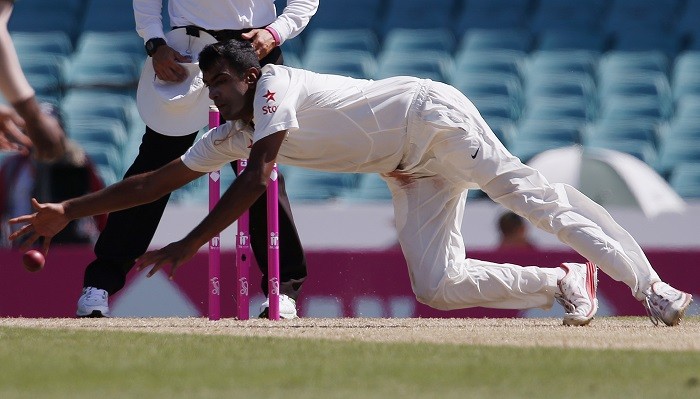 It says everything about India's performance on Day 1 of the fourth Test, that it was the World Cup squad, which was relatively straightforward, that grabbed all of the headlines on Tuesday.
Another pathetic bowling performance, albeit on a flat-as-a-pancake pitch, meant Australia flew to 348/2 at stumps on the opening day in Sydney, leaving the bowlers with plenty of work, and then some, to do on day two.
India yet again showed they do not have the ability to stick to a plan, stay patient, keep things tight and let the batsmen make the mistakes, instead giving away way too many boundary balls which the likes of David Warner, Chris Rogers, Shane Watson and Steven Smith accepted with glee.
Watson and Smith are both at the crease with half-centuries of their own, to go with Warner's century and Rogers' 95, and the duo will look to turn the screws on India further on day two.
"It was a fantastic toss to win," said Warner. "There was no swing and sideways movement and so it was challenging for their bowlers.
"I think their heads were down. They didn't get their line and length right. Virat [Kohli] will know how frustrating it is when your bowlers bowl on both sides of wicket."
Even if the wicket did not offer much to the bowlers, the least they could have done was keep bowling in the right areas and wait for time to do its job; instead the bowlers, barring R Ashwin, to a certain extent, were all over the place again, playing right into the Australia batsmen's hands.
"It has been a mixed bag and we have to be a lot more disciplined than we are," India''s bowling coach Bharat Arun said. "There have been occasions when we have bowled well but consistency is going to be the key.
"It has been a trend in the series is that bowlers who have worked hard and maintained a good line and length have got wickets.
"There is a lot of work to be done we are doing it. Every wicket is different and you have to learn how to adjust to each one of them. That's what we are working on.
"We are a young side and are in the process of rebuilding. We have been competitive in this series; the first two matches could have gone either way. This series will be a great experience for them going forward."
Experience or no experience, the basic stuff about bowling outside off stump at a good length is a simple task that any Test cricketer must do, and the inability of the Indian bowlers to do just that has come back to haunt them again, with Australia looking on course for yet another score of over 500.
Where to Watch Live
Get Day 2 Report and Score HERE
The second day of 4th Test match is scheduled for a 10.30 am local time (5 am IST, 11.30 pm GMT, 6.30 pm ET) start with live coverage in India on Star Sports 1, Star Sports 3 (in Hindi) and Star Sports HD1. Audience in India can also watch the match online via free live streaming on Starsports.com or via the Starspors Live Pro option..
Watch the fourth Test live in Australia on Channel 9, while the option to live stream is on Cricket Australia Live or the Cricket Australia Live App. Audience in the UK can catch Day 2 of the Test match on Sky Sports 2, or via live stream on Sky Go or Watch Sky Sports.
The 4th Test can be watched by viewers in the USA on Willow TV or live streamed on Willow TV Online. Viewers in the Middle East and North Africa can catch all the day two action live on OSN or via live streaming online on OSN Play.