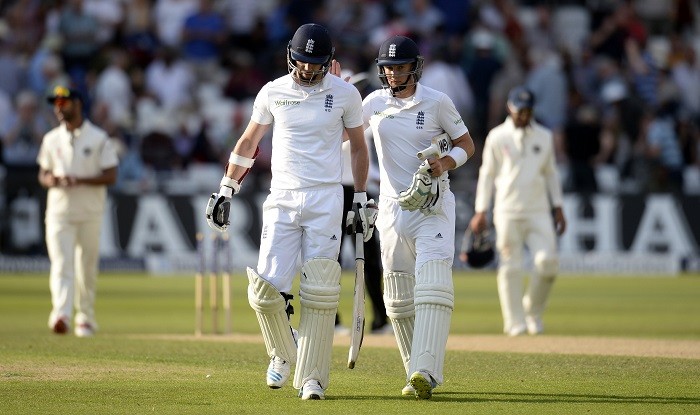 The bowlers did as well as they could really on this as-lifeless-as-they come pitch at Trent Bridge, with England showing some gumption and fight late in the innings to hold off a post-Lunch India charge. Day 4 plan for India will be to get the final England wicket as quickly as possible, before looking to bulge that lead, which currently stands at 105 runs, to a score that might give the English the chills heading into the fourth innings.
Where to Watch Live
Day 4 of the first Test is scheduled for live coverage on Star Sports 1, Star Sports 3 and Star Sports HD1, with the play set to begin at 11 pm BST (3.30 pm IST, 6 am ET). The match can also be watched via live streaming online HERE in India. Coverage in the UK is on Sky Sports 2, with the option to live stream HERE. Viewers in the US can watch the game on ESPN 3, while the action can be live streamed HERE.
The most likely result at the moment looks like a draw with the wicket just not having anything in it to make you think a team will be able to pick up 20 wickets and force a win. However, stranger things have happened in Test cricket, and India's first and most important target will be to end the irritating, from the bowlers' point of view, 54-run partnership for the final wicket between Joe Root and James Anderson – England giving India a dose of their own medicine there after Bhuvneshwar Kumar and Mohammed Shami did the same to the hosts' bowlers with a hundred-run alliance.
Ishant Sharma and Bhuvneshwar Kumar, in particular, bowled really well on a pitch which was still as slow and low as possible.
The bowlers, despite their brilliant efforts in the second session, did find it difficult, though, to go in for the kill after England were on a precarious 202 for seven, with a belligerent 47 from Stuart Broad and then the final wicket partnership between Root and Anderson putting paid to hopes of a quick finish.
"We have to give a lot of credit to Stuart and Jimmy at the end there and [Liam] Plunkett as well -- even though he was in there for a short while we were still putting pressure back on them and frustrating them," Root told ECB's official website. "We've got to make sure we go out tomorrow and try and whittle down this lead as much as possible and then you never know, we could get ourselves back in the game.
"I like it when it is tough -- it is a good challenge. I thrive off it at times, but the way they played took a lot of pressure off me and put a lot of pressure back on their bowlers. Going forward we need to make sure we can continue to do that as a side.
"I do think they're probably still in a slightly more commanding position. All we can do now is fight and make sure we front up tomorrow and put in a really good performance as a side."
If India can pick up that early wicket on Saturday, and fold England for somewhere close to their current score of 352, then the batsmen will have another important task ahead of scoring as many runs as possible in quick time to try and put the pressure back on England.
A lead of about 100, a little below or over, will be a good start for India, as they can then press ahead and look to set England a target that will send a few worries through that home side dressing room.
"We've got to make sure we regroup as a side and get clear plans together," Root added after ending Friday on 78 not out. "Then we just go out there and fight and make things as hard as possible for India.
"You never know, if me and Jimmy keep playing the way we did tonight we could really put them under pressure and make this lead really small."
So, India's plan will be simple really – get either Root or Anderson ASAP, and then put their willow to good use, by smoking as many boundaries as possible; easier said than done on this wicket. For England, it will be about frustrating the Indian bowlers as much as possible, before hoping for a few wickets at the top of India's second innings courtesy Anderson and Broad.