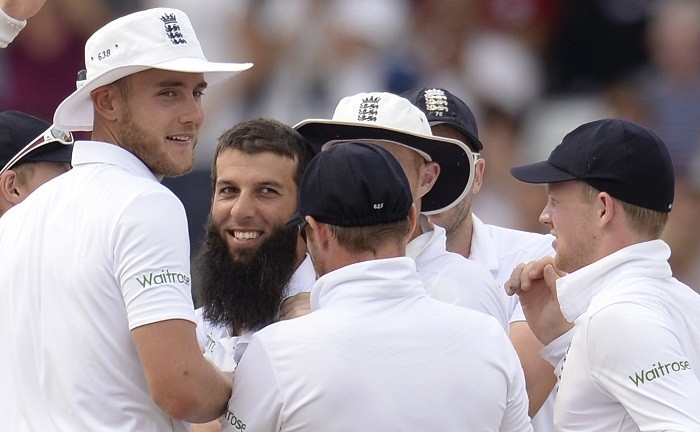 India, who were fancying a win early on in the first Test match on a dead Trent Bridge pitch, now find themselves battling in the final session against England, after Moeen Ali scalped a well-set Murali Vijay and Liam Plunkett dismissed Cheteshwar Pujara.
Earlier, the Indians were left frustrated by a world record 198-run 10th wicket partnership between Joe Root and James Anderson, and the duo also punched out any chance of India building a considerable lead over them.
"It is a brilliant feeling, to bat like that and build a partnership like that," Anderson said. "I am glad to get the team back in the game. Of all the statistics, that will be my favourite. I thought on Friday night that if I was ever going to get a Test fifty, it would be on this wicket."
Root and Anderson broke the 163-run record set by Australian Ashton Agar and Phil Hughes last summer during the Ashes series at the same ground. Anderson's 130-ball 81 is also the third highest score made by a number 11.
However, the 31-year-old failed to get to his maiden Test hundred when he slashed one outside off and was caught by Shikhar Dhawan in the first slip of Bhuvneshwar Kumar, who ended with a fifer.
"I knew the short ball wasn't going to get me out and that only certain deliveries would be dangerous," Anderson explained. "I should probably have left the delivery that got me out but I threw the kitchen sink at it. I was thinking about a century but I very much doubt whether I will ever get a score like that again in Tests."
Indian seamers had produced brilliant spells on the third day and at one time reduced England to 202 for seven but the last three wickets produced 294 runs for the hosts as the pace-attack led by Ishant Sharma failed to confine the tailenders.
"We will have to think about how to get the tailenders out," Pujara said. "The way they have scored after losing seven wickets, we will have to regroup and have a chat with the bowlers and plan for the next few matches in case the same situation arises. We will definitely need a strategy for the tailenders."
As the England innings finally came to an end in the second session on Day 4, openers Dhawan and Vijay gave India a solid 49-run start. Dhawan, however, punched a full-toss straight to Ali just before the tea interval.
Vijay and Pujara fell in the final session after completing half-centuries but Virat Kohli and Ajinkya Rahane made sure that the touring party faced no more jolts. India are currently leading the match by 128 runs with seven wickets in hand.
"I was disappointed at the way I got out," Pujara insisted. "I should have batted more responsibly. It was almost evening, and the game was about to be over for the day, and we had just lost Vijay. I should have played a little more carefully. The ball bounced a little more than I expected, and I couldn't control it. We just need to bat well in the first session. Then we can take a call."
Where to Watch Live
Day 5 of the first Test is scheduled for live coverage on Star Sports 1, Star Sports 3 and Star Sports HD1, with the play set to begin at 11 pm BST (3.30 pm IST, 6 am ET). The match can also be watched via live streaming online HERE in India. Coverage in the UK is on Sky Sports 2, with the option to live stream HERE. Viewers in the US can watch the game on ESPN 3, while the action can be live streamed HERE.