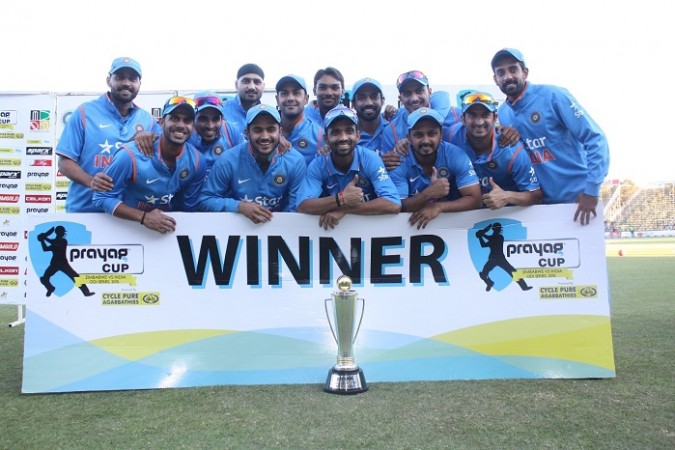 The ODI series win over Zimbabwe was reasonably impressive, but India will now turn their attention to the more-important – considering there is a World T20 coming around in a few months – T20 international series, starting with the 1st T20I on Friday.
India kept the pedal on the metal in the final match of the ODI series to complete a 3-0 whitewash over Zimbabwe, and the most pleasing aspect in that win was the performance of Kedar Jadhav and Manish Pandey.
From a tricky position, the inexperienced, in terms of international cricket, duo put on a big partnership to take the match beyond Zimbabwe.
"It was a great opportunity and that's what I took it as," said Jadhav who scored his maiden century in the final match of the ODI series. "I knew it would be challenging here, so I was prepared for that and I always knew it wouldn't be easy to score in every game.
"I told myself that whenever I get going, I will stay until the end and make sure that my team wins. I'm happy that today I've got in, settled and then carried through to the end."
Both Pandey and Jadhav's knocks bode well for India, as they were struggling to find rhythm in their batting. The likes of Murali Vijay, Robin Uthappa and Manoj Tiwary, and to a lesser extent Ajinkya Rahane, are still to convince, but in many ways these batsmen will feel more comfortable in the T20 game, having played tonnes of matches in the IPL.
The inclusion of Sanju Samson, probably at the expense of Tiwary, is also possible in the batting lineup, and India could very well have several debutants in this match against Zimbabwe, with Sandeep Sharma also hoping for a look-in.
Zimbabwe did not play badly at all in any of the three matches, and on another day they might have even come away with a series win.
However, what cannot be denied is their lack of consistency in the batting. When your batting is not the strongest, the last thing you should do is bat second and put further pressure on the willow-wielders. So, common sense says, Zimbabwe, if they win the toss for the fourth consecutive time, will bat first and put a score on the board, even if this is a different format.
"We honestly thought we should have won [more games]," Zimbabwe coach Dav Whatmore said. "When you get so close, and you don't, I think psychologically it becomes a little bit greater when you play the next one.
"We've got the potential, as you can see, we just need to transform our ability into performance, and that comes from here.
"It takes a bit of time. If you look at the history of Zimbabwe cricket over the last four years, if you've done your research you'll know that we've only played a handful of games.
"And to improve you need to go through certain situations more often. So hopefully boys will learn as quickly as possible, because we are now playing competition which we haven't had in the past."
Where to Watch Live
Get the Score and Report of the India vs Zimbabwe 1st T20I HERE
India vs Zimbabwe 1st T20I is scheduled to begin at 1 pm local time (4.30 pm IST, 12 pm BST, 7 am ET). Live TV coverage in India of the first T20 match will be on Ten Cricket, with the live streaming option on Ten Sports Live.
Willow TV will show the match live for viewers in the US, while all the action can also be live streamed online on Willow TV Online.