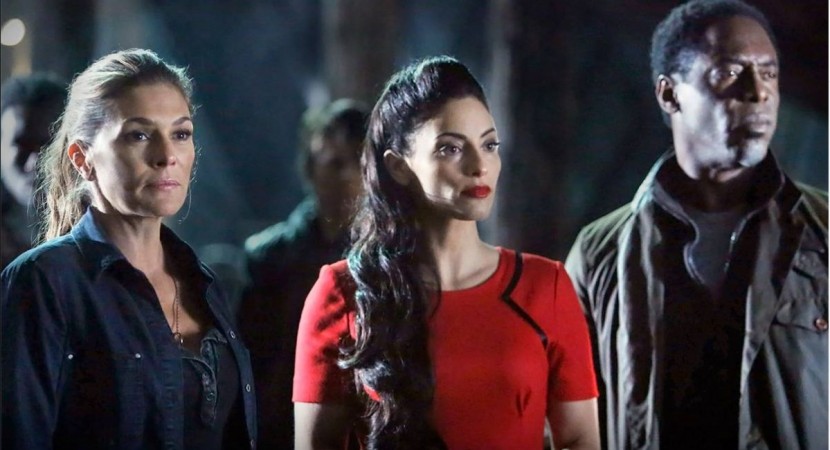 The original gang is back together in "The 100" Season 3, and despite fans' inhibition about the future of the show, the story is only getting more intense with each episode. In the upcoming "Demons," the gang will go back to Arkadia to try and defeat ALIE (Erica Cerra).
However, a rude surprise awaits the group in Arkadia, which looks like a ghost town, now that ALIE has taken her minions and left. The gang, however, is not taking any chances and each member is carrying a weapon. Despite the outward appearance it looks like Skaikru's colony is housing at least one person and he does not seem to be in a friendly mood.
The promo shows the armoured man attacking Raven (Lindsey Morgan), who is still in a lot of pain. As fans know, she has many wounds all over her body already, including slit wrists and a broken leg. The showrunners seem to enjoy seeing Raven constantly in pain.
However, Harper (Chelsey Reist) seems to be the one in real danger. Although, after the deaths of Lexa (Alycia Debnam-Carey) and Lincoln (Ricky Whittle) so close to each other, it is unlikely that the CW show will kill off yet another fan-favourite. Moreover, she may be a love interest for Jasper (Devon Bostick) once he starts to move on from Maya (Eve Harlow).
Also Read:What did Oliver promise Laurel in "Arrow" Season 4?
There are quite a few theories about who the man in the armour is, and most fans theorise it is Emerson (Toby Levins). He is the sole surviving member of Mount Weather, and despite Lexa offering to let Clarke (Eliza Taylor) kill him, she refused saying death would be mercy. It would make sense for him to come back after Lexa's death and kill whosoever is left in Arkadia.
Meanwhile, Jaha (Isaiah Washington) and the rest of the Arkadians in the City of Light seem to be heading towards Polis, where they can seduce Grounders into swallowing the pill. They hold the knowledge that Clarke has ALIE 2.0 aka Fire, which will prove that Ontati (Rhiannon Fish) does not have the Flame in her and is, therefore, not the true Commander.
Here is the official synopsis for "The 100" Season 3 episode 12 titled "Demons," which will be aired at 9 p.m. (EST) on Thursday, April 21and can be streamed via CWINGO and The CW Seed:
Jaha returns to Polis, and Murphy has a surprise encounter. Meanwhile, Octavia uncovers a clue.