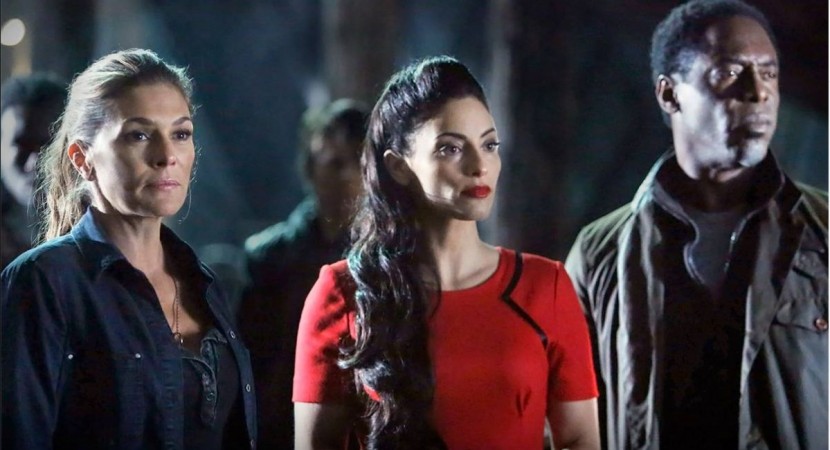 The protagonists of "The 100" Season 3 have been facing one problem after another since the premiere and the upcoming episode 11 is going to be no different. Clarke (Elizabeth Taylor) and her friends will have to figure out a way to save Raven (Lindsey Morgan) before she helps ALIE (Erica Cerra) bring apocalypse to the Earth again.
In "Nevermore," Clarke and Jasper (Devon Bostick) take an unconscious Raven to the cave where Octavia (Marie Avgeropoulos), Kane (Henry Ian Cusick) and the others are hiding out. There, the friends will try everything in their power to save Raven from ALIE's influence.
ALIE and Jaha (Isaiah Washington) had hoped that when Raven wakes up she will lead them to the cave. However, it looks like when Raven wakes up she is already restrained and has no idea where she is. As Clarke tries to get ALIE out of her head, Raven taunts her by saying the Wanheda's own mother Abby (Paige Turco) is in the City of Light with her and the others.
Clarke loses her cool and threatens to "fry" her, but Bellamy (Bob Morley) restraints her. The upcoming episode is special because of this Clarke and Bellamy reunion as well. In a way, Raven's possession may work in Bellamy's favour. Everyone currently hates him for taking Pike's (Michael Beach) side and despite redeeming himself by handing Pike over to the Grounders in the previous episode, he is still not very popular among his peers.
Also Read: Laurel's death fake, 'Canary Cry' set photos reveal who really is in the grave
Now is his chance to show the crew why he is still an integral part of the team. Bellamy is among the very few people that can reason with Clarke and he will help her figure out a way to save Raven, even as ALIE forces Raven to hurt herself. Her plan is to take Raven as close to death as possible so that her friends will reveal where they are and hand over ALIE 2.0 to her. The same tactic she used to get Abby to take the pill.
However, it looks like Clarke will figure out a way to save Raven in "Nevermore." She is seen taking out the blade that Titus (Neil Sandilands) gave her before making her the new flame keeper. If she puts the second version of ALIE's programme in Raven's body she could not only be saved, but also become the new commander of the Grounders.
Another way is for Clarke to find a bracelet similar to the one Jaha destroyed in "Fallen." The bracelet would push ALIE out of Raven's mind. A fan theory suggests that Clarke to approach Niylah (Jessica Harmon), the grounder who saved Clarke and later slept with her, in an attempt to borrow her bracelet. Considering the actor who plays Niylah is featured in the promo photos for the upcoming episodes, this possibility makes better sense.
Watch Season 3 episode 11 of "The 100" at 9 p.m. (EST) Thursday, April 14. You can also live-stream "Nevermore" via CWINGO and The CW Seed.