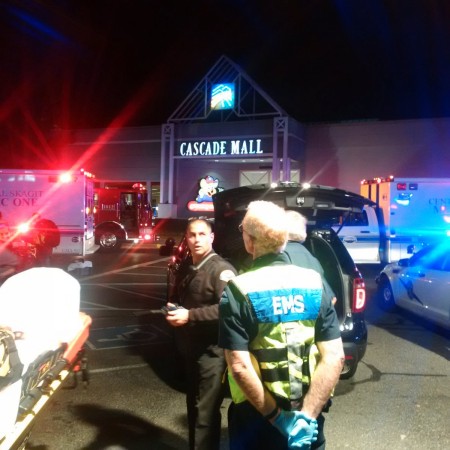 At least four women were shot dead and one man critically injured when a gunman opened fire in the makeup department of a Macy's store at Cascade Mall in Burlington around 7.30 pm local time on Friday. According to the police, the gunman later fled the scene.
Burlington is located in northwest Washington around 97 km north of Seattle.
Washington State Patrol spokesman Mark Francis said in a series of tweets that the police were searching for the shooter whom he described as: "Hispanic male wearing grey. Last seen walking towards I5 from Cascade Mall Burlington."
He added that all "survivors inside the mall will be transported via bus to 'His Place' church corner of Pease Rd and Burlington Blvd."
The Emergency Medical Services (EMS) had also reached the spot to "attend to the injured" after the mall was evacuated around 8.30 pm.
Sergeant Francis also tweeted a CCTV grab of the suspected shooter and asked the public to notify the concerned authorities if he is spotted anywhere. He added that the "lone shooter" apened fire with a "hunting type rifle." He further added that 11 search units and two K9 units were involved in doing the "final clear" of Cascade Mall on Friday night.
The parking lot was shut following the attack while the public were told that they would be able to take their vehicles away on Saturday, the Associated Press reported.
The Federal Bureau of Investigation (FBI) has also been assisting the local police authorities in their search for the suspect. However, the FBI's office in Seattle tweeted saying:
At this time, #FBI has no information to suggest additional attacks planned in WA state. Assisting with intel review & manpower #SkagitDEM

— FBI Seattle (@FBISeattle) September 24, 2016
"We urge residents to heed all safety and detour warnings. Stay close to your friends and loved ones as we await more information and, hopefully, news of the suspect's capture," Governor of Washington Jay Inslee said in a statement.
Here is the shooter. We believe just one shooter. Notify authorities if you see him. Armed with rifle. pic.twitter.com/GXeWCPYnx5

— Sgt. Mark Francis (@wspd7pio) September 24, 2016
4 confirmed deceased in the mall, shooter(s) left scene b4 police arrived, unknown # of shooter, possibly just 1, police clearing mall now — Sgt. Mark Francis (@wspd7pio) September 24, 2016
Active shooter description: Hispanic male wearing grey. Last seen walking towards I5 from Cascade Mall burlington.

— Sgt. Mark Francis (@wspd7pio) September 24, 2016
We're actively searching for suspect, tracking leads, etc — Sgt. Mark Francis (@wspd7pio) September 24, 2016
EMS starting to enter to attend to injured inside Mall w/ police escort and after initial clearance. pic.twitter.com/Nkfb7co6sa

— Sgt. Mark Francis (@wspd7pio) September 24, 2016
FAMILIES/FRIENDS: Survivors inside the mall will be transported via bus to "His Place" church corner of Pease Rd and Burlington Blvd — Sgt. Mark Francis (@wspd7pio) September 24, 2016