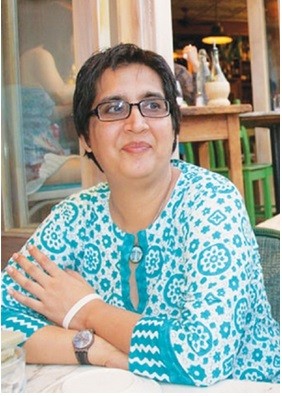 Sabeen Mahmud, a rights activist, was shot dead in Karachi on Friday, in what the police called a case of 'targeted killing' after holding a discussion on the troubled Balochistan region.
Sabeen, 40, known for founding the social forum T2F, had organized a session called 'Unsilen­cing Balochistan' on Friday, and was killed by gunmen shortly after the discussion ended.
The social worker was heading home with her mother at about 9 pm local time in her car when two attackers on a motorcycle opened fire at them. While both were hit by bullets, Sabeen was pronounced dead from being shot in the face, chest and neck.
Karachi-South Deputy Inspector General of Police Dr Jamil Ahmed told Dawn that Sabeen had been deliberately attacked, but did not reveal the motive.
"It's an incident of targeted killing, but we are not aware of any threats she had been receiving. The investigations are on and it would be too early to speculate about the motive behind the killing," he said.
Moments before her death, Sabeen had shared photos from the session on social media.
Human Rights Commission of Pakistan's Chairperson Zohra Yusuf told Dawn that a similar session on Balochistan by Sabeen was to be held at a Lahore university college on Thursday but was cancelled under alleged pressure by the Inter-Services Intelligence (ISI) agency.
"It appears that an attempt is being made to silence human rights defenders or those who take up the causes of the people," Yusuf said. "It can't be said categorically that her murder was linked with this event," she added.
Sabeen had reportedly told her colleagues that she was being scrutinised by the Pakistani intelligence agency, The New York Times reported.
"The Baluchistan problem is so huge, and Pakistani intelligence agencies are so paranoid, that they will not allow even discussion in a room full of people, let alone a TV channel or a newspaper," Mohammed Hanif, a journalist, told NYT.
Sabeen was known for organising the first hackathon in Pakistan, in 2013.
The T2F, formerly known as The Second Floor, offers a space for dialogue on social issues.
'Unsilencing Balochistan' had focused on the situation in the restive province, where separatist insurgents have thrived for long and the army is currently engaged in battling them.
She openly discussed the military's human rights abuses in the region and questioned the disappearance of activists.
Sabeen had famously told a magazine in an interview that "Fear is just a line in your head. You can choose what side of that line you want to be on".