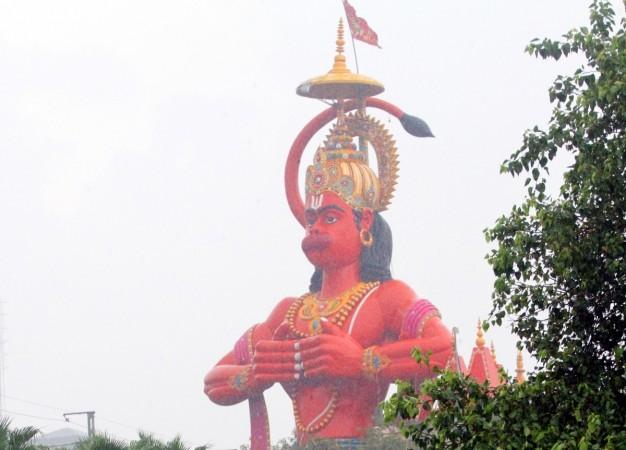 The controversy over the caste identity of Hindu god Hanuman is refusing to die down as Bukkal Nawab, a BJP leader and former Samajwadi party member from Uttar Pradesh, has now called Hanuman as a Muslim.
"You see, we Muslims have many common names such as Rehman, Ramzan, Zeeshan, Qurban which sound similar to Hanuman. That is because Muslims follow Hanuman and hence embrace names which sound similar to his. We believe that Hanuman Jee was also a Muslim," Bukkal told ANI.
#WATCH: BJP MLC Bukkal Nawab says "Hamara man'na hai Hanuman ji Muslaman theyy, isliye Musalmanon ke andar jo naam rakha jata hai Rehman, Ramzan, Farman, Zishan, Qurban jitne bhi naam rakhe jaate hain wo karib karib unhi par rakhe jaate hain." pic.twitter.com/1CoBIl4fPv

— ANI (@ANI) December 20, 2018
He further said that the Hindus do not name their children Hanuman or names which sound similar to his. "You will not find names such as Sultan, Rehman among Hindus or names which sound similar to Hanuman, but among Muslims there are many," Bukkal added.
Bukkal earlier stirred controversy by donating a cow to a temple in Lucknow and said that his forefathers who were Nawabs also did the same. The Muslim religious leaders, however, castigated him for worshipping Hindu deities and said that Bukkal was not a Muslim anymore.
The Hindi heartland of India comprising UP, Rajasthan, Madhya Pradesh earlier saw some inflammatory remarks being made by political and religious leaders, especially during the last Assembly elections.
The remarks over attributing caste/ identity to Lord Hanuman have become the latest flashpoint among the political leaders with the UP Chief Minister Yogi Adityanath saying that Lord Hanuman was a Dalit whereas several other BJP leaders refuted Yogi's claims and said that Lord Hanuman was not a Dalit but a slave of Manuwadi people.
There were also claims made by the Jain priests in Madhya Pradesh that Lord Hanuman was a Jain and one of the most reverred persons in their religion.