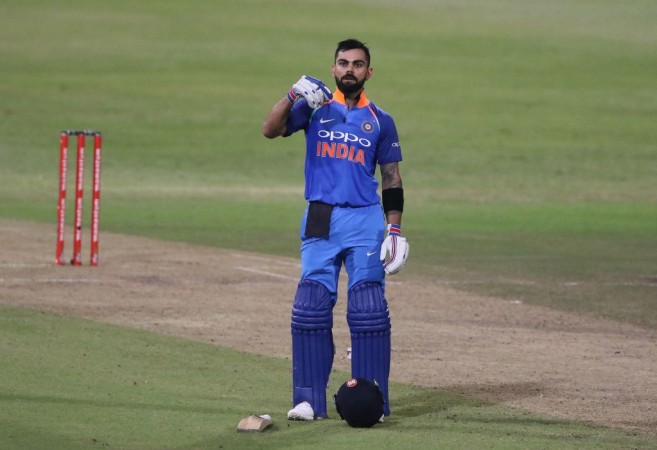 Virat Kohli is a man who does not hide his emotions on the field. Be it any format of the game, he always wears his heart on his sleeve. It was no different when he struck his 33rd One Day International hundred in Durban last night (February 1). And he had a reason this time to unveil special celebrations.
Also read: SA-India series schedule, squads, Live stream info
Thanks to captain Kohli's 119-ball 112 India went 1-0 up in the six-ODI rubber against South Africa at Kingsmead ground on Thursday. Yet again, the 29-year-old proved that he is the best when it comes to chasing down totals in a 50-over contest. India overhauled Proteas' 269 with six wickets and 27 balls to spare.
Entering the first ODI, Kohli had unfinished job in the "Rainbow Nation". He had not scored an ODI ton in South Africa before that. So, he had a point to prove. And he did it in style.
As soon as he completed his three-figure mark with a boundary off Andile Phehlukwayo, in the 41st over, Kohli took off his helmet, pumped his fist and roared "come on". He pointed his right hand down indicating that "I belong here". The entire Indian dressing room gave a standing ovation to the skipper.
Later in the post-match presentation ceremony, former South African cricketer-turned commentator Shaun Pollock asked about the celebrations. "Is that a team joke?," the former all-rounder queried Kohli.
The Indian batsman revealed, "No, it wasn't a team joke. I haven't scored a ODI hundred in South Africa before this. So it was quite special to be able to understand that you are winning the game and you are able to score a hundred in the first game of the series, it always counts a lot.
"It is all about having the belief that we are here to play and we are here to compete. Starting off on a positive note obviously gives everyone a boost in the change room. That was certainly something that will be very special in my memory."
This was Kohli's second hundred on South Africa tour. He had hit 153 in the second Test in Centurion. He was the only batsman in the three-Test rubber to cross the three-figure mark. However, the hosts won the trophy 2-1. The ODIs will be followed by three T20Is.