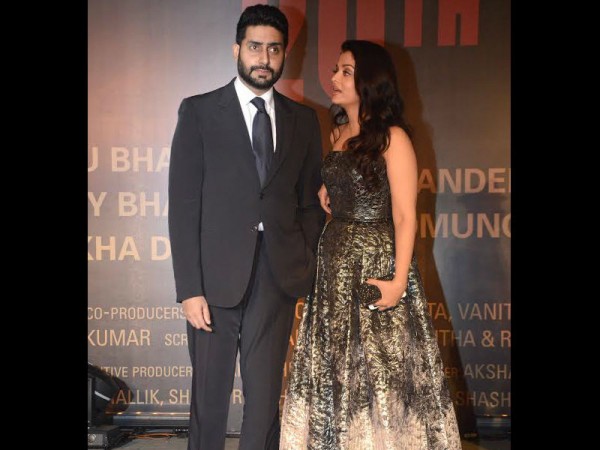 Abhishek Bachchan has opened up about recent rumours that he was miffed with wife Aishwarya Rai Bachchan. There was a buzz that things were not okay between Abhishek and Aishwarya after the former was seen leaving his wife alone on the red carpet during the premiere of "Sarbjit."
A video had surfaced in which Abhishek appeared uninterested to get clicked with Aishwrya during the red carpet event of "Sarbjit" premiere. Although the "Housefull 3" actor posed with his wife after repeated requests from the shutterbugs, but he suddenly asked the photographers to click her pictures only and left the spot, leaving Aishwarya apparently shocked and embarrassed.
In an interview with Bollywood Hungama, Abhishek opned up about the incident suggesting that the entire episode was blown out of proportion by the media. Aishwarya's husband further said that he is not bothered about all these reports.
"It is customary on the red carpet they ask the lady to give solo photographs. So I said abhi inka photo lijiye. Now if I do that they say 'hath jhatkake nikalgaye.' Then after that we went to another function holding hands they said 'dekho abhi kaise chipakke jaa raha hai.' Then after that I said okay I won't go only, as I was promoting my film somewhere and she went for a function of 'Sarbjit' and then they said 'see he has not accompanied her.' So, I don't think about it because if we started thinking about this and listen to what the media has to say about our relationship, then there will be no relationship," explained Abhishek.
"She is my wife and I am immensely proud of her. I think she was sensational in 'Sarbjit," he said, adding that he along with the entire Bachchan family went out for a dinner together after the premiere.