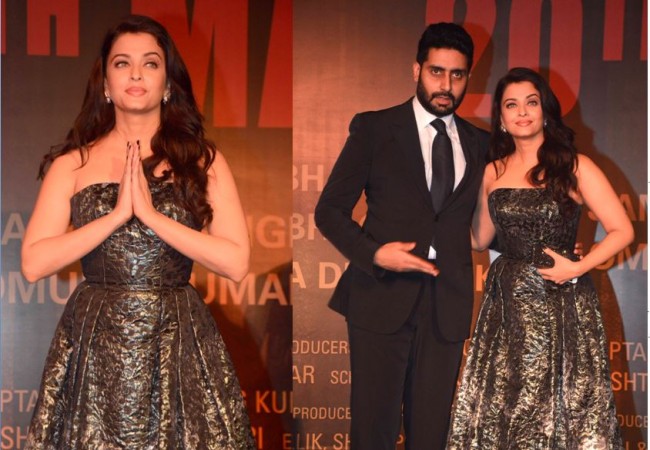 Aishwarya Rai Bachchan apparently found herself in an awkward situation when her husband Abhishek Bachchan abruptly left her alone on the red carpet during "Sarbjit" premiere.
Abhishek and Aishwarya arrived at the event along with Amitabh Bachchan, Jaya Bachchan and the actress' parents. Shutterbugs were all set to click pictures of Abhishek and his wife together, but the actor seemed uninterested.
However, the "Housefull 3" actor finally obliged to the cameramen's repeated requests and posed with Aishwarya. But things apparently turned embarrassing for the "Sarbjit" actress when Abhishek suddenly left her alone on the red carpet.
The photographers were asking Aishwarya to pose in different angles and that is when Abhishek asked the lensmen to click only her pictures and simply walked away. A baffled Aishwarya tried to stop her husband, but he did not and she also immediately followed Abhishek after offering a "namaskar" to the photographers.
Earlier, Aishwarya's co-actor Randeep Hooda too made headlines for telling a reporter to shut up during the premiere of the same movie. Randeep was interacting with the media when one reporter asked him if he felt that he had overshadowed Aishwarya in "Sarbjit." First, he avoided the question but when quizzed again, the actor lost his cool and bluntly told the scribe to shut up.
However, the reporter was not ready to buy Randeep's apparent rude response and countered him back saying that he could have skipped the question by saying "no comments." Randeep then had told that he got miffed as the reporter was asking him the same question even after he had avoided it. Check the video when Abhishek left Aishwarya abruptly on the red carpet.