French skater Gabriella Papadakis returned to the ice a day after her nightmarish wardrobe malfunction incident at the Winter Olympics 2018 and created a personal-best straight away. The 22-year-old blonde beauty teamed up with her partner Guillaume Cizeron to take away the silver medal at the Gangneung Ice Arena, PyeongChang.
Gabriella and Cizeron lost to Team Canada in the ice dancing competition final on Tuesday but the brilliant pair scored a total of 205.28 points and in the process, smashed their previous-best record of 203.16 set in January.
Gabriella stunned in a beautiful deep blue dress and not only prevented another wardrobe malfunction mishap but also stole a million hearts with her lyrical free dance performance.
The 22-year-old had just started her short program with Cizeron to the tunes of Ed Sheeran's 'Shape of You' in the Winter Olympics event on Monday when her emerald dress came off from the neckline, exposing her left breast (Video).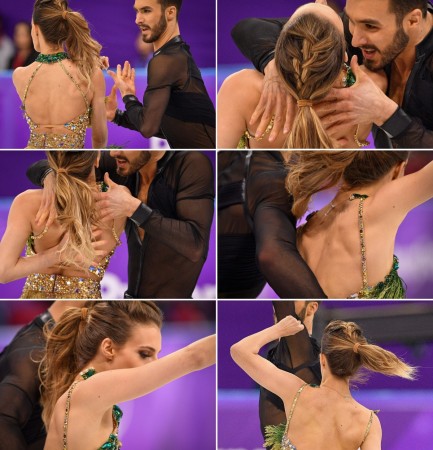 Gabriella tried getting her dress back together during the performance but also made sure to perform until the end of the clock. The pair clocked a score of 81.93 and came second in the event.
Her mental strength and the ability to adapt to the unforeseen situation rewarded her plenty of fans from around the world.
Seriously, a million points to Gabriella Papadakis for just saying "Fuck it" when her dress broke and skating with her entire boob out. That is a bad bitch. ??⛸️⛸️

— Onson Sweemey (@ChurchCarlton) February 19, 2018
Gabriella Papadakis skating a full short program with a wardrobe malfunction is true heroism

— sham corb (@samcorb) February 19, 2018
Sophie Thomas, who has been designing the figure skater pair's costume for the last six months, mentioned that it remained a mystery how Gabriella's costume came off during the performance.
"I feel terribly guilty, even though it's not my fault," Sophie was quoted as saying by AFP. "I just can't explain it, it's a real mystery. The top was firmly attached.
"There were studs on the top and a hook which held up the back of it. And there was stitching over the top of it. We just don't know why it came undone at that very moment. It's bad luck, there's just no rational explanation."
Looking at the multiple incidents of wardrobe malfunction in the Winter Olympics 2018 (South Korean figure skater Yura Min also faced it earlier), Turkish figure skating pair Alisa Agafonova and Alper Ucar ensured that their conservative costumes were kept firmly in place during their performance.
"The most important part for Alisa when she designs it is keeping it safe," Aper told Reuters after their performance at the Ice Dance free dance competition final on Tuesday.