French figure skater Gabriella Papadakis, 22, suffered an embarrassing and nightmarish wardrobe malfunction during her mixed ice dance program in Pyeongchang with partner Guillaume Cizeron. The moment at the Winter Olympics 2018 was terrible for Gabriella, but that didn't prevent the French pair from coming second in the event.
Update: Gabriella strikes silver medal at PyeongChang 2018
Gabriella and Cizeron clocked a score of 81.93. If the wardrobe malfunction wouldn't have taken place, the French pair would have stood first in the competition, for sure.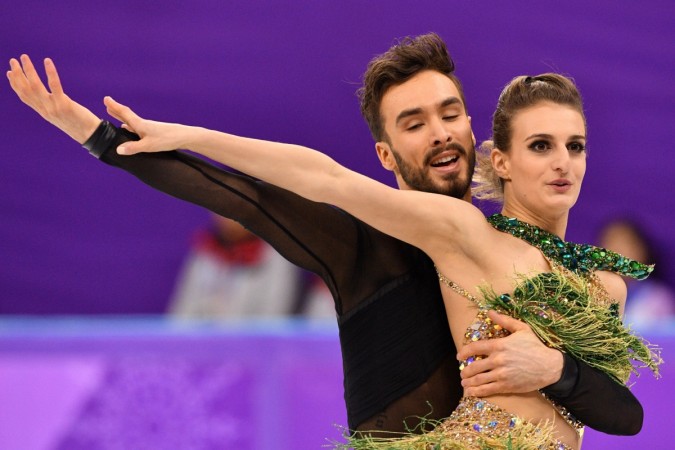 "It was pretty distracting, kind of my worst nightmare happening at the Olympics," said Gabriella after her dance performance, as quoted by the Daily Mail.
"I told myself, 'I don't have a choice. I have to keep going,' and that's what we did. I think we can be proud of ourselves being able to deliver a great performance with that happening."
Just moments after Ed Sheeran's viral hit number 'Shape of You' started playing during their short program, Gabriella's emerald costume unhooked from around her neck and her left breast was exposed live in front of the spectators present as well as the worldwide TV audience.
Gabriella Papadakis experiences a costume malfunction with her dress for the second time this week, according to @KurtBrowning

The clasp at the back of her halter snapped.

Bad luck and a distraction for the experienced French pair. pic.twitter.com/F6quTbadWu

— CBC Olympics (@CBCOlympics) February 19, 2018
The 22-year-old tried pulling up her costume and covering her modesty during the full performance but that was in vain. Somehow, she pulled the act on until the end and Gabriella and Cizeron stood second.
This is not the first incident of a wardrobe malfunction at the Winter Olympics 2018. South Korean figure skater Yura Mina, 22, faced a terrible moment during her pairs figure skating routine with partner Alexander Gamelin.
Yura's red dress slipped during their short program, but the way she handled the oops moment and went on to finish her act was hailed by one and all.
Despite the wardrobe malfunction, I had an amazing time competing in my home country! I promise to sew myself in for the individual event. ? I would like to thank the audience for keeping us going until the end. Couldn't have done it without you guys ❤ #grateful pic.twitter.com/B8UuRNgRMu

— Yura Min (민유라) (@Yuraxmin) February 11, 2018