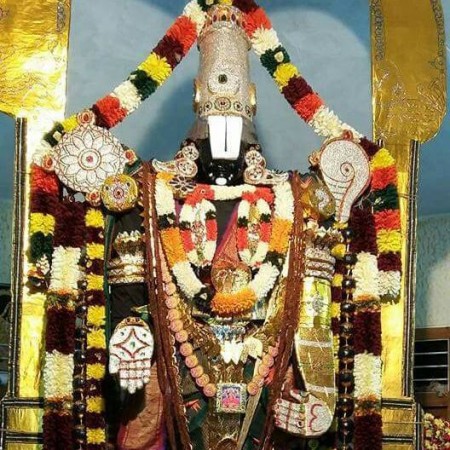 Anyone in India who wants a US visa usually follows the application protocol and waits with bated breath. Now, there's another path – along with the formal application - that comes highly recommended. Go to the Balaji temple at Chilkur, 25 km away on the road to Vikarabad near Hyderabad.
The Chilkur Balaji temple, located on the banks of the Osman Sagar lake, was built in the 14th century and it is a go-to temple for all those who have applied for a US visa. In fact, it's now referred to as the Visa Venkateswara temple.
Dr M.V. Soundararajan who is the high priest at this Balaji temple tells India Today how devotees who come here seeking a visa favour must pray. No devotee can drop cash in the hundi when the person's wish is granted. Instead, the person has to do 11 pradakshinas (circumambulations) around the shrine for fulfillment of a wish and once your wish is granted you need to do 108 circumambulations.
What do the 11 circumambulations represent? They represent the secret of creation — 11 means "1 soul and 1 body". It unites both with devotion and determination to fulfill the wish and states there is no second but everything is god. As for the 108 circumambulations, 1 represents the Existence, Almighty, God (Balaji), 0 represents Creation (Illusionary World) and 8 represents the time the human body takes to come to this universe which is 8 months (Jivatma). Usually when people pray they close their eyes, but at this temple you are advised to keep your eyes open when you look at Lord Balaji.
So how did this temple end up with the name Visa Venkateswara. Andhra Pradesh is state which sees a large number of people apply for US visas. This temple started to get popular when around two decades back, software professionals who wanted to go to the US started visiting this temple. The Wall Street Journal has even written a story about this famous temple which sees nearly 100,000 people each week.
How to pray when you see Visa Venkateswara:

11 circumambulations of the temple when you go seeking the wish.

When the wish is fulfilled, 108 circumambulations of the temple.

No cash offerings are accepted.