TVS Motor Company recently launched its flagship motorcycle Apache RR 310. The supersport bike extracted from the Akula 310 concept unveiled at Auto Expo 2016 has been priced competitively at Rs 2.05 lakh (ex-showroom).
During the launch, TVS officials confirmed that the new motorcycle will be sold in 51 dealerships in 40 cities across India. These dealerships are expected to have a special section dedicated to the new range-topping TVS bike by the time the delivery starts at the end of this month.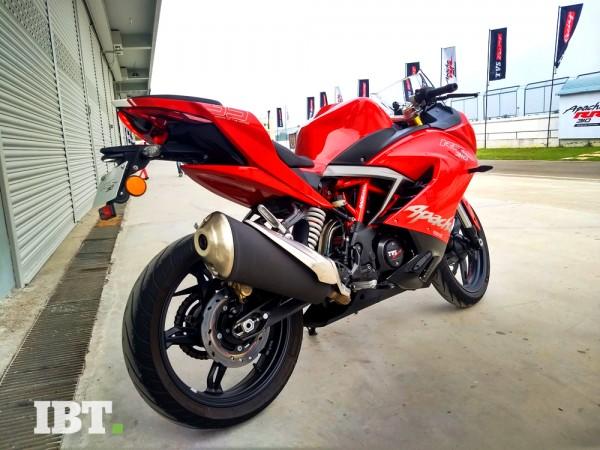 Are you ready to put your money on TVS Apache RR 310? Here is the region wise list of dealerships where you can place an order.
South
State/region
City
Dealership
Andhra Pradesh
Guntur
Pioneer TVS
Andhra Pradesh
Vijaywada
Casa TVS
Andhra Pradesh
Vizag
Olive Auto
Karnataka
Bangalore
Prakruthi TVS
Karnataka
Bangalore
Solar Motors
Karnataka
Bangalore
Bharath Automobile Agency
Karnataka
Bangalore
Ashwa Motors
Karnataka
Mangalore
Sai Radha TVS
Karnataka
Mysore
Sona Motors
Kerala
Calicut
A.K.B.Motors
Kerala
Cochin
Cochin Motors
Pondicherry
Pondicherry
JKay TVS
Tamil Nadu
Chennai
Logesh TVS
Tamil Nadu
Chennai
SBM Motors
Tamil Nadu
Coimbatore
Sri Sakthisaradha TVS
Tamil Nadu
Coimbatore
Lotus Agency
Tamil Nadu
Hosur
VS Auto
Telangana
Hyderabad
Ramcor TVS
North
State/region
City
Dealership
Chandigarh
Chandigarh
GMP Motors
Delhi
Delhi
Binsar Automobiles
Delhi
Delhi
Dynamic Motors
Delhi
Delhi
Om Motors
Punjab
Ludhiana
Gulzar Trading Company
Rajasthan
Jaipur
K S Motors
Rajasthan
Jodhpur
Sunita Motors
Rajasthan
Kota
Excel Automobiles
Rajasthan
Udaipur
Akme TVS
Uttarakhand
Dehradun
DS Automotive
Uttar Pradesh
Allahabad
Greenlands Corporation
Uttar Pradesh
Ghaziabad
G.S.Motors
Uttar Pradesh
Kanpur
India Motor
Uttar Pradesh
Lucknow
Speed Motor Company
Uttar Pradesh
Lucknow
Nirman Auto
Uttar Pradesh
Moradabad
New Brasscity Motors
Uttar Pradesh
Noida
Aditi Automobiles
West
State/region
City
Dealerships
Gujarat
Ahmedabad
Oceanic Motors
Gujarat
Surat
Patel TVS
Goa
Porvorim
Thaly Motors
Maharashtra
Mumbai
Supreme Automobiles
Maharashtra
Mumbai
Hare Krishna TVS
Maharashtra
Mumbai
Priyanka Motors
Maharashtra
Pune
Century Auto
Maharashtra
Pune
Shelar TVS
Maharashtra
Pune
Saibaba Sales
Maharashtra
Nagpur
AK Ghandhi
East zone
State/region
City
Dealership
Assam
Guwahati
Hindustan Auto Zone
Chattisgarh
Raipur
Rainbow Automotives
Jharkhand
Ranchi
Swastik Auto
West Bengal
Howrah
Shubh Auto
West Bengal
Siliguri
RS Automotive
TVS Apache RR 310 boasts superior performance and expressive design. The supersport motorcycle is powered by a 312cc, single-cylinder engine that churns out 34hp of power and 27.3Nm of torque, mated to a six-speed gearbox. TVS claims a top speed of 160kmph and 0-60kmph acceleration time in just 2.09 seconds for its flagship product.
True to TVS's racing pedigree, the Apache RR 310 comes with a host of premium and track focused bits. These include all-new light-weight trellis-frame chassis and race-inspired vertical speedometer.
Its stance has been further enhanced by bio-LED twin projector headlamps, Michelin tyres, race spec KYB suspension, ABS and electronic fuel injection system. The Apache RR 310 comes in two colours — Racing Red and Sinister Black.