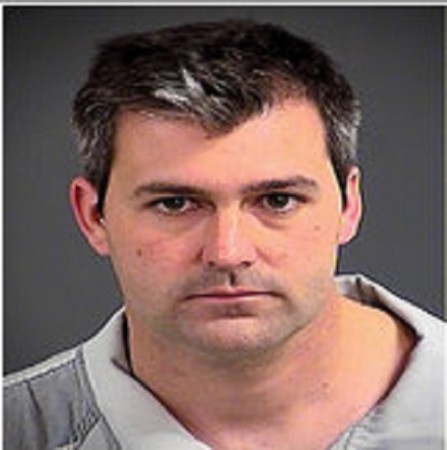 The South Carolina police officer Michael Slager has been charged with murder after a video emerged on Tuesday showed him shoot a 50-year-old black man, Walter Scott, 'eight times'.
Following the release of the footage, the Charleston County Sheriff's Office arrested the 33-year-old officer, Michael Slager, on charges of murder. The video, which was first published by the The New York Times, showed Slager drawing his weapon and firing eight rounds at Scott's back as he desperately tried to escape.
Scott was pulled over by the officer on Saturday for a broken brake light, however, he fled the scene as the family court had issued warrants for his arrest.
Slager earlier had said in his statement that he first had tried subduing the 50-year-old using a Taser, but Scott snatched it from him before fleeing the scene. And later he shot the suspect as he felt threatened, The Post and Courier had reported.
#MichaelSlager the officer who shot an unarmed black man eight times #SouthCarolina pic.twitter.com/004BCrkeAL

— Newsitis (@Newsitis) April 8, 2015
Though Slager had claimed that Scott had taken his Taser, the video in the end reportedly shows him dropping it next to the man's body.
Similarly, the police reports had claimed that the responding officers performed CPR and delivered medical aid to Scott, but in the video Scott is seen lying face down in handcuffs for several minutes after the shooting.
#SouthCarolina shooting death, #WalterScott killer cop #MichaelSlager charged with #Murder via charlestoncounty pic.twitter.com/jLA3TuFIXc — Newsitis (@Newsitis) April 8, 2015
Chilling front page of the NYT this AM pic.twitter.com/as6ELuP6QR #WalterScott

— Judd Legum (@JuddLegum) April 8, 2015