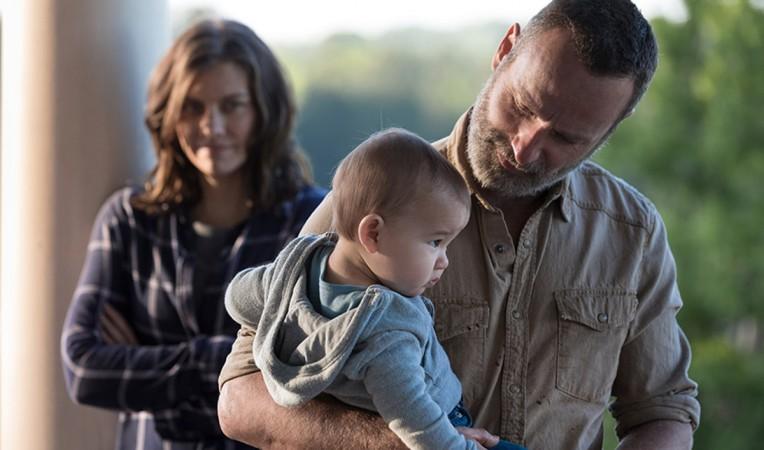 The Walking Dead season 9 premiered to a disappointing viewership rating but the upcoming episodes might just shoot up the numbers. And why not, Rick Grimes, the show's lead protagonist, is all set to bid adieu to the zombie-infested world where an exit always meant death.
Andrew Lincoln's exit from the show sparked wild speculations that his character will be the next big casualty. While his fate is still unknown, new showrunner Angela Kang hints that Maggie may become responsible for the upcoming major twist.
While speaking to Hollywood Reporter, she explained that the friction between Rick and Maggie may create a rift between the now harmonious community. She also hinted that saving Negan's life after what he did to Glenn may cost a lot to the former leader of Alexandria.
"We left Maggie and Rick somewhat at odds — quite a bit at odds, actually — over the decision to keep Negan alive," she told the news website. Though Maggie never really opposed Rick's decision openly, the undercurrent of her anger might spell doom for Lincoln's character in the future of season 9. Kang thinks, her anger may come out in a "different form."
"That's one of the things that underlies the episode. We made the choice to not make it something they verbally argue about too much. It comes out in a different form. It's almost as if Negan is a ghost over the proceedings for Rick," she added.
The premiere episode began 18 months after the finale of season 8 and showed how the different communities are working together to make ends meet in the post-apocalyptic world. Fans also saw the ruthless leadership of Maggie when she hanged Gregory, the ousted Hilltop's leader, for trying to kill her.
However, it seems TWD won't kill off Rick in the second episode as the synopsis of the upcoming episode barely hints at his demise. The second episode description reads: "The communities join forces to restore a bridge that will facilitate communication and trade; someone is gravely injured at the construction site."
Wang also said that the show will stay true to Rick's character until his last episode. "The thing that's really interesting to write with Rick is he's a man who really thrives with a mission. Sometimes, the deaths of characters really knock him off course. It's only when he finds that next project to work on that he's animated. We wanted to stay true to that aspect of Rick."
The Walking Dead will return on Sunday, October 14 on AMC with episode 2, titled The Bridge.