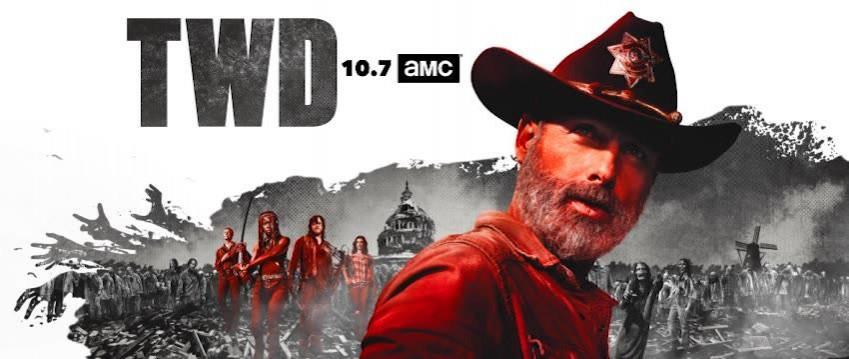 The new trailer of AMC's The Walking Dead shows inscriptions teasing 'Rick Grimes' final episode in the ninth season.
The trailer was originally released at San Diego Comic-Con in July. The new trailer has included bits that mark the end of longtime lead Rick Grimes. The network had a very similar send-off for Chandler Riggs and Carl Grimes who were killed off in season 8.
Andrew Lincoln made a statement at Comic-Con confirming his exit in the upcoming ninth season. The sheriff said, "This will be my last season playing the part of Rick Grimes," at 'The Walking Dead' Hall H panel.
"I love this show. It means everything to me. I love the people who make this show... I'm particularly fond of the people who watch the show. You people. This has been the most extraordinary, amazing, and beautiful experience of my career," he added.
The actor decided to step away from the show because of children. He said, "it was something that I started to think about as my children got older and less portable."
In a recent interview with Entertainment Weekly, Andrew shared his thoughts on leaving the show. He said he feels a sense of relief but he regrets breaking the story cycle. "I believe in the story... it's gonna be a great season but it would have been greater if it was not spoiled to a degree," he said.
The way his character is going to exit the show is not known but his co-actors will have to deal with it. Talking to EW, Danai Gurira and Michonne said, "Our characters are dealing with as we deal with it. The other cast members are in very clear emotional synchronicity with our characters right now, because the loss is felt by them and by us."
Andrew did hint at exiting the show without being killed off at Comic-Con. "I think [Morgan actor] Lennie James is a good example of leaving without dying. There's also the other way, but I won't tell you which one."
The upcoming season will premiere on October 7, 2018.