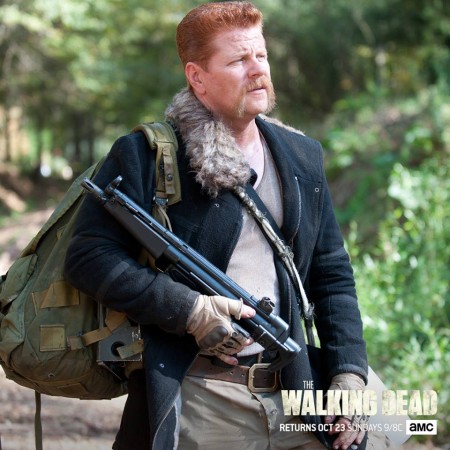 The Walking Dead Season 7 premiere, which will be aired on Sunday, October 23, will finally reveal who got Lucilled in the Season 6 finale. The identity of Negan's victim has been one of the hotly debated topics for months and the death is going to upset a lot of fans, even if the show sticks strictly to its source material, Robert Kirkman's The Walking Dead comics.
Warning: This post contains potential spoilers from Season 7 of The Walking Dead
In the comics, Glenn is the one who dies as soon as Negan is introduced, and based on reports from the filming location, Steven Yeun's character meets a similar fate in the AMC series as well. But according to The Spoiling Dead Fans, a trusted source for The Walking Dead spoilers, Glenn is not the only one who dies. Abraham will also be killed by Negan, who is considered one of the most notorious villains to come out of The Walking Dead comics.
Why was Abraham killed? "Daryl gets angry because Negan taunts a crying Rosita. So he tries to get up and go at Negan. Negan has to prove he means what he says," the spoiler forum noted.
The Spoiling Dead Fans also put to rest rumours that Rick will lose his hand in the premiere. But it added that Negan has other forms of torture planned for Rick. "A lot of mind games from Negan. No physical injury to Rick by Negan although Negan does toss him into a small herd of walkers."
Also, "Negan tells Rick he must chop Carl's arm off so that he'll truly realize Negan is in control. Rick eventually becomes resigned to do it but at the last second, Negan stops him. Mind f**k complete."
The episode will also feature a dream sequence where Rick will conjure up images of Glenn and Abe. "There are a few moments where Rick flashes to a non-existent future where Glenn and Abe are still alive and the entire group, including Maggie & Glenn's baby, are around the dinner table," the spoiler forum revealed.