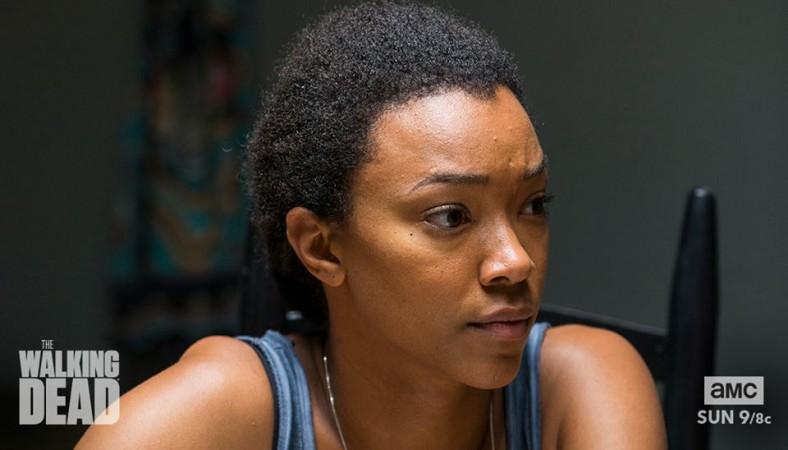 There is just one more episode to go before The Walking Dead winds up Season 7, and this has sparked rumours that Rick's gang might lose yet another member as the war with Negan has already begun.
Also read: Kendall Jenner flaunts her enviable figure in an array of sexy lingerie [PHOTOS]
Sasha, the character played by Sonequa Martin-Green, is now at the Sanctuary and speculations are rife she could be the next casualty. The Walking Dead Season 7 is yet to feature a major death since Negan killed Glenn and Abraham in the premiere, and Sasha seems to be the next candidate. Another factor that points towards Sasha being the next one to die is that Martin-Green has joined Star Trek Discovery, and this is expected to leave her with very little time for The Walking Dead.
Season 7 episode 16, which is the finale, will be aired on April 2 and it's titled The First Day of the Rest of Your Life. The official synopsis doesn't reveal much other than that "the stakes keep mounting higher and higher as different stories clash, while the group enacts an intricate plan."
Previewing what's to come in the upcoming episodes, Ross Marquand, who stars as Aaron, told E!News: "Now that we've gotten a chance to really get to know Negan and what makes him tick, I think the fans are going to really get to see this clashing of the two men that they've been waiting for all season. Rick and Negan have been doing this dance of trying to figure out how they could live together diplomatically, and it just hasn't been working out. And now they're going to see a different side of Rick and the gang."
The Walking Dead is aired on Sundays on AMC at 9 pm.