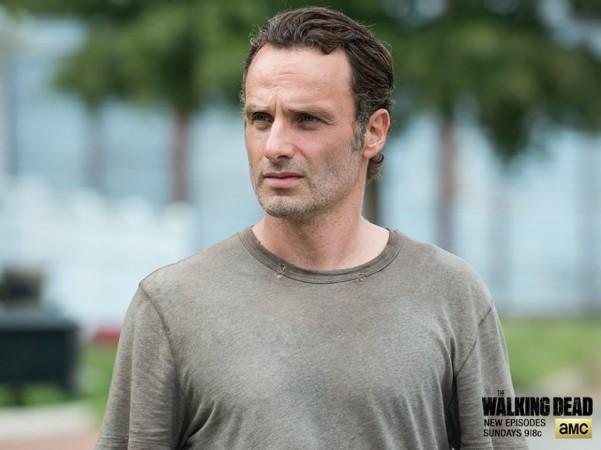 With just three more episodes to go, season 5 of AMC's "The Walking Dead" is nearing its end, and it means fans will have to brace themselves for more violence and deaths as Rick and gang continue to make Alexandria Safe-Zone their home.
The 15 March episode is titled "Spend" and it teases new challenges for the gang. "While trying to secure a new home, Rick and his group face challenges, and question the utopia they find themselves in," the official synopsis reads. The summaries of the next two episodes too tease at life in ASZ beginning to get dangerous for the newcomers.
The synopsis of "Try" reads: "When life within the walls begins to mimic life outside, the group realizes that sheltered life may not be possible." And synopsis of the finale states that "Daryl finds trouble while on a run; Rick and the group feel like outsiders in Alexandria, where trouble approaches the gates."
Regarding the finale, actor Norman Reedus previously hinted that fans are sure to burst into tears and noted an interesting turn of events will expose the truth about one character. Ross Marquand, who essays Aaron in the series, echoed similar sentiments, saying the show is entering a dark emotional territory that will leave fans teary-eyed.
"I wouldn't even nail it down to one or two emotions. The fans are gonna go on a roller coaster ride the rest of the season," the actor told #NerdProblems. "Every single episode for the rest of the season will take you on this really rough ride. The highest highs and lowest lows. I think it will be a lot of fun for viewers. We are getting into very dark emotional territory in the next bit here, but some beautiful moments too."
Meanwhile, the next episode might see two characters leaving the show for good. Noah, the character for whom Beth gave up her life, is expected to die on Sunday's episode. According to The Spoiling Dead Fans, Noah dies after his face gets ripped apart by a walker.
The second death will be Aiden's, the spoiler forum revealed.
"The Walking Dead" airs Sundays on AMC.