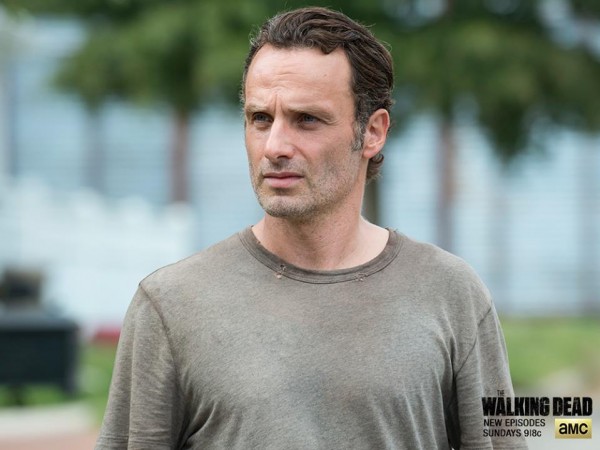 Season 5 of AMC's "The Walking Dead" ended on Sunday with Rick finally proving his mettle to Deanna, thanks to Father Gabriel, who left the main gate open, and a violent Pete. And at the end of the episode titled "Conquer," fans finally got one of their wishes, when Rick and Morgan finally reunited.
The 90-minute finale touched upon many storylines, and it set the stage for season 6, which will see fans learning more about the Wolves. The"WOLVES NOT FAR" image indicated that it won't be long before we see the people of Alexandria getting ready to fight another set of enemies.
The finale episode was hyped by both the cast and the crew to be an emotional one. For instance, Norman Reedus wanted fans to be ready with a Kleenex, and actor Michael Cudlitz said it will surely anger a lot of fans.
"It's going to be very satisfying," Cudlitz told Yahoo News. "It's going to piss you off. There will be tears, but also, once again, like the writers have been doing pretty consistently, it tees up a new beginning in a very, very different way."
But fans have termed the finale one of the most boring episodes of the season, and many appear to be disappointed that a major character did not die as predicted.
"BORING. And I'm right ticked about how they were all saying how we would all need a box of tissues, unless they meant cry from boredom and anger at how they overhyped," one fan wrote.
Another noted: "This was hyped up to be great with game changing twists and instead it was a boring set up for a sixth season that does not have me anxiously waiting for October. Some of the stories felt very half-done, and the end of the episode was rushed (even in a 90-minute episode). I'm disappointed and if I'm in the minority, I would be shocked."
Filming for season 6 is expected to start sometime in May and it will end around November. The next season of "The Walking Dead" will likely air by October, and fans will learn more about two different group of survivors known as the Wolves and another called the Saviors.