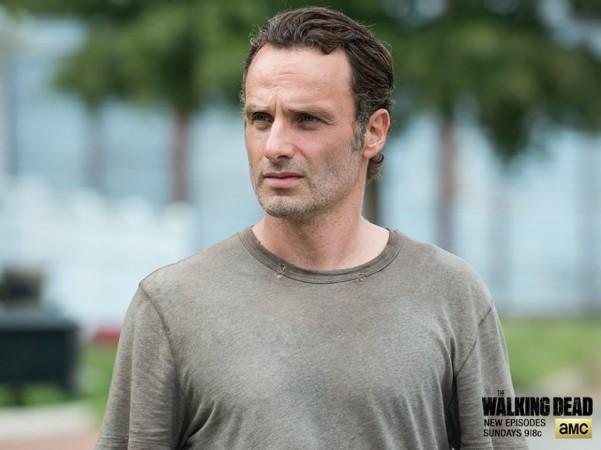 The season 5 finale of "The Walking Dead" is going to leave a number of fans devastated, as the cast has been hinting that the season will sign off with an emotional episode that's going to anger fans as well.
The episode is titled "Conquer" and based on the official synopsis, Daryl will find himself in trouble while out on the run, as Rick and his band of survivors will possibly attempt to take over Alexandria. The final episode of the season will be 90-minutes long, and it will pick up from where "Try" ended, with Michonne knocking out Rick.
It remains to be seen what Deanna has in store for Rick, but there seems to be some sort of a trial for Rick in the next episode. In the promo for "Conquer" Deanna is seen telling the community, "We're going to talk about Rick Grimes."
Meanwhile, in a season that claimed a number of casualties, the finale too is expected to feature the death of a key character, and bets are on Carol, Daryl and even Tara biting the dust. Alanna Masterson recently told Entertainment Weekly that she was worried that her character Tara Chambler could be next to die.
"It's interesting because if you look at Emily or Chad or Tyler and people that have gone this season — it's done nothing but be great for them," she reasons. "People have become so attached and it's all they can think of and all they can remember so I eventually know I'm going to go on the show. I think eventually everyone is going to go on the show. So I just try to enjoy every episode. But, yeah, it's kind of nerve-wracking."
Actor Michael Cudlit recently opened up about the finale, saying it will surely anger a lot of fans.
"It's going to be very satisfying," Cudlitz told Yahoo News. "It's going to piss you off. There will be tears, but also, once again, like the writers have been doing pretty consistently, it tees up a new beginning in a very, very different way."
Norman Reedus, who plays Daryl, also hinted at an emotional ending and urged fans to bring a lot of Kleenex when they sit down for the finale.
The season 5 finale of "The Walking Dead" will air on Sunday on AMC.