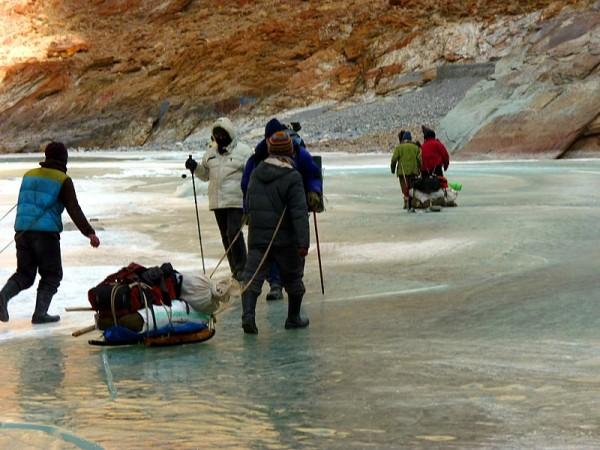 The summers are coming to an end and very soon the winter season will take over. While adventure seekers and trekking enthusiasts wait for the October-November months to plan their trips, there are some who wait for the extreme winters to set in. The January and February months are the coldest in the Himalayan region and most of the time witnesses a drop in the number of tourists visiting the hill areas.
Most importantly, all the trekking trails, except a few, remain closed during this time because of snow or extreme sub-zero temperature. But, there's one trail which, contrary to others, only opens up during this time and remains operational only until the temperatures are low.
The Chadar Trek trail is arguably the most dangerous and also one of the most adventurous trekking trails in the country. Its popularity among people is evident from the fact that Chadar Trek has been covered by prominent travel magazines and channels like Discovery and Nat Geo have made documentaries on it.
So, what is so special about the Chadar Trek?
The trek has borrowed its name from ice sheet (chadar) as the Zanskar River in Ladakh freezes in the January and February months. The six-days long trek if full of extreme challenges.
First, the trekkers have to walk on this frozen river and live in an inhospitable condition. The ice sheets keep changing colours and cracks appear at some places. Therefore, one has to be very careful while walking on the ice and also has to create new paths whenever required.
The temperatures remain close to minus 10 degrees during the day and plummet to minus 25 degrees at the night. Trekkers have to sometime set up camps on the frozen river but mostly take refuge in the embankments and caves in the surrounding hills.
At the same time, the trek is not an exhausting experience because it does not involve a very steep climb. It offers one of the most amazing adventure trekking experiences in the country. Only a limited number of people are allowed to go on the trek so it is important that you start making your plans right now.