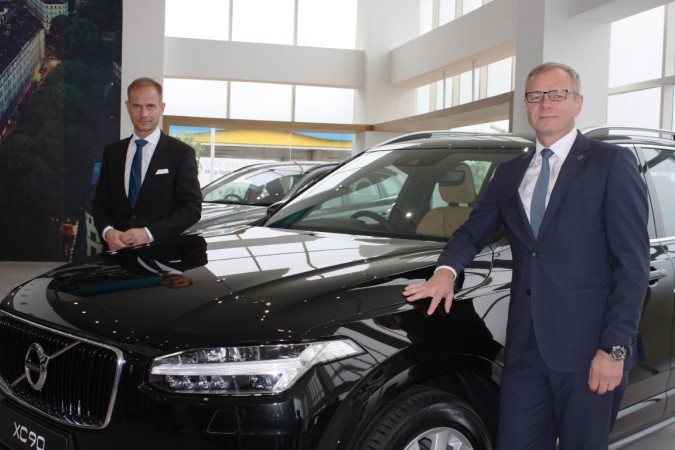 Swedish car-maker Volvo has opened its biggest dealership in India at Vijayawada, Andhra Pradesh, on Monday. Located near Chaitanya College, the showroom is spread over an area of over 26,000 sq ft, across 3 floors and it offers sales and after-sales to Volvo cars in the region. The facility was inaugurated in the presence of Jari Kohonen, Volvo Cars Group VP Asia- Pacific, and Tom von Bonsdorff, Managing Director Volvo Auto India.
The new dealership is operated by SRK Cars, which also co-owns Volvo cars dealership in Vishakhapatnam. "Volvo Cars' share of the luxury car market in Andhra Pradesh is among the highest in India. Opening a new dealership at Vijayawada is an obvious step towards amplifying our position further in the state. With the launch of Vijayawada dealership, Volvo Cars is happy to be strongly present at two major cities in the state, with the other being Visakhapatnam," said Tom von Bonsdorff in a statement.
The new dealership sell will entire range of Volvo cars that include V40 Cross country, V40, S60 Cross country, S60, XC60, and the XC90. The range currently starts at Rs. 25.5 lakh for the V40 and goes up to Rs. 70.96 for the XC90 SUV.
The Swedish manufacturer also confirmed launch of the S90 sedan and the XC90 T8 plug-in hybrid in the country soon. The S90 sedan will replace the ageing S80 sedan in India portfolio and it will be the flagship sedan of the company. The XC90 T8 plug-in hybrid will be powered by a 2.0-litre four cylinder turbo and supercharged engine working in tandem with an electric motor. The combined output of the hybrid powerplant is 400bhp and 640Nm of torque. The engine will be mated to eight-speed automatic transmission. The T8 version is expected to cost more than the regular variants.