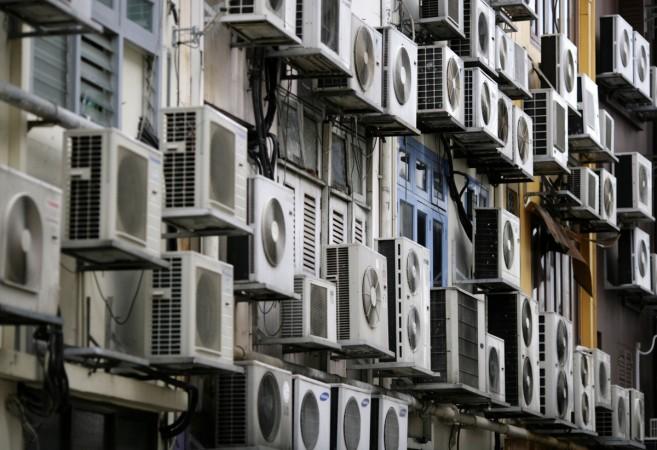 Benchmark stock market indices extended their losses on Friday despite positive cues from the US where the third quarter GDP growth rate came in at a higher 3.5 percent, an upward revision from the 3.2 percent forecast earlier. The BSE Sensex was trading 70 points lower at 25,908, while the NSE Nifty was down 28 points at 7,951 at around 10.15 am. Voltas was down 3.04 percent to Rs 301 after its investor call the previous day.
Top Sensex losers were Mahindra (M&M), ITC and Axis Bank, while Sun Pharma was up 1.26 percent at Rs 616 on the back on its $175 million acquisition.
US stock markets declined for the first time back-to-back in December on Thursday on account of profit-taking and weak trading ahead of the long celebrations beginning with Christmas.
Voltas investor meet update
Tata Group company Voltas said at the investor meet that the demonetisation decision of Prime Minister Narendra Modi will have a lower impact on its business as it came during the lean season (November to February) for its products, mainly air-conditioners. However, the overall outlook for the company is less optimistic, said brokerage Nirmal Bang after attending the meet.
Other companies selling air-conditioners in India include Daikin, LG and Panasonic.
Here are the key takeaways, according to Nirmal Bang:
Management believes that demonetisation has happened at a favourable time for AC (air-conditioner) industry as November to February is a lean period for AC sales because of the winter season.
Sales at the retail level could be impacted post demonetisation, the inventory in supply chain (with Voltas as well as with its dealers and retailers) is minimal because of strong sales in the summer season and the ongoing off-season currently.
Overall in 9MFY17, Voltas does not expect to register revenue decline.
Management believes that the impact of demonetisation is higher in Tier 2 & Tier 3 cities compared to metros and Tier 1 cities. However, 70-75 percent of AC sales are accounted for by top 20-22 cities in India.
Despatches for next year's summer season will start from the last week of February 2017 and hence the company has two more months to ascertain the demonetisation impact.
Voltas is industry leader in ACs with 22 percent market share, having a lead of 700bps over LG, the No. 2 player (which has around 15 percent market share).