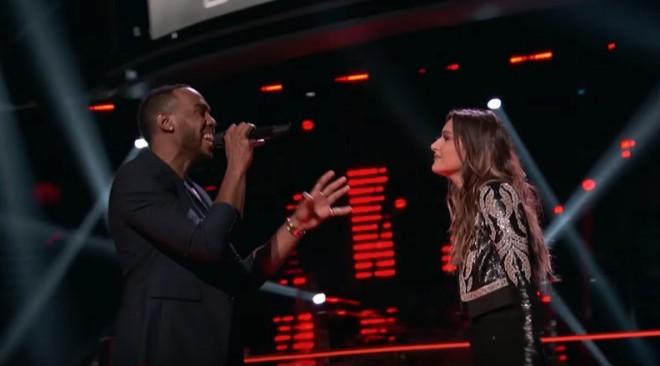 Only three pairs performed in The Battles 4 of The Voice USA 2017 (Season 12) but it was an entertaining night. In fact, the contestants put up wonderful performances, leaving the audience wanting for more by the time the episode ended. It also left many shocked after a couple of their favourite singers were sent home without a steal.
Recap:
Lauryn Judd and Lilli Passero of Team Alicia were the first pair to take the stage for the night. They took on the song, "Every Little Bit Hurts" by Brenda Holloway and it was a good rendition. Lauryn is no doubt very talented with a unique tone to her voice but the night didn't belong to her. Lilli was more composed, thanks to her experience, and gave a solid and assuring performance. After letting Felicia Temple and Hunter Plake leave her team, I was wondering if Alicia Keys would surprise me again but she didn't this time and chose Lilli as expected. Lauryn did deserve a steal but it wasn't easy with only Adam having a steal left.
Also read: The Voice USA 2017 (Season 12) Battles 3 recap, results, team standings
Jesse Larson and Taylor Alexander of Team Adam were the next to perform on Tuesday (March 28) night. They took on the song, "Shameless" by Billy Joel. Jesse started with a cool guitar piece before going on to give a beautiful performance. However, Taylor Alexander, the country guy wasn't giving up. He gave a wonderful performance by doing his own things and he has a smoother tone. It wouldn't be easy for coach Adam Levine to pick the winner but he shocked me, and perhaps many, by choosing Jesse over Taylor though the former has a better range.
The last pair to perform in the final episode of the Battles was Brandon Royal and Davina Leone from Team Gwen. They sang the song, "In the Night" by the Weeknd. It looked like a "no-contest" pairing at one point of time but it turned out to be a strong fight. The song suited Brandon's voice more, and he didn't disappoint by giving a mellifluous performance. "Brandon, you are one of my favourites from the blind auditions, and I almost broke up with Gwen because of you," said Blake Shelton, before adding, "No, I'm kidding." He did steal the show but Davina surprised everyone by rising up to the occasion and putting up a fierce fight. The girl who got a single chair turn in the blind auditions stole the hearts of many in the Battles. So, she got stolen by Adam Levine while her previous coach Gwen chose Brandon.
It's disappointing to see talented singers leaving the show despite giving their best but there is nothing one can do about it. Yes, many would have felt helpless when country singer Taylor Alexander was shown the door because he was a big talent. Unluckily for him, only his coach Adam had a steal left, which meant there was no chance of saving him from leaving the show. Blake would have pushed his steal button for Taylor had he still had the option but it's only wild imagination now.