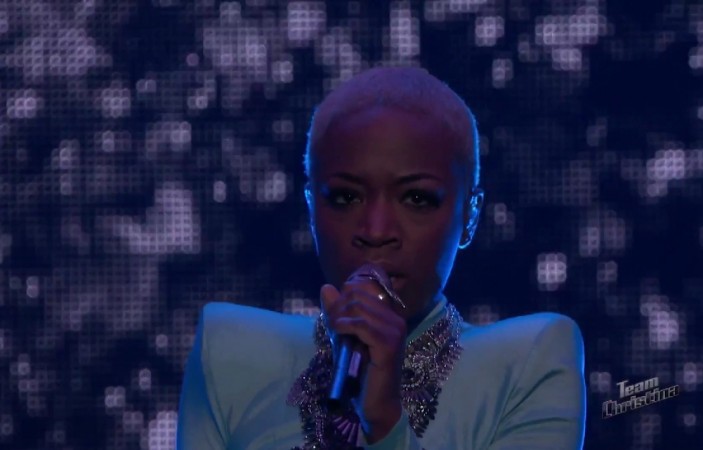 "The Voice" US Season 8 has entered the most exciting stage of the show with competition getting really stiff. Top eight finalists will perform live again on Monday with the hope of progressing to the next level of the show.
Last week saw two contestants leave the show based on America's votes. Rob Taylor of Team Christina sang "(Sittin' On) The Dock of the Bay," Deanna Johnson of Team Adam performed "Help Me Make It Through the Night," and Joshua Davis, who was also from Team Adam, sang "I Won't Back Down" last week after being placed in the bottom three.
American saved Joshua Davis last week via Twitter, thus sending the other two contestants - Rob Taylor and Deanna Johnson - home.
Blake Shelton will go to the quarterfinals show on Monday with three contestants, while Christina Aguilera and Pharrell Williams have two each, and Adam Levine, only one.
Here is complete list of top 8 finalists who will perform in the quarterfinals:
Team Blake: Meghan Linsey, Corey Kent White, Hannah Kirby
Team Christina: Kimberly Nichole, India Carney
Team Adam: Joshua Davis
Team Pharrell: Sawyer Fredericks, Koryn Hawthorne
"The Voice" US Season 8 quarterfinals live performance will be telecast Monday on NBC Television at 8:00 pm EST (6.30 am IST, Tuesday) and it will be live streamed online on NBC's official website.
Interestingly, former coaches of "The Voice" will return to the show as mentors this time around. Gwen Stefani will mentor Team Pharrell and Team Christina, Usher is the advisor for Team Adam, while Cee Lo Green returns for Team Blake. However, Shakira will not be seen on Monday following the recent birth of her second child.